Ram sales
Heading along to a ram sale, or want to have a chat about what rams are best suited to your farm breeding requirements?

We can help you make it easy. 

Check out our ram sales schedule below, download a copy of it, or contact a PGG Wrightson Genetics Specialist to help you select rams.
Sales run nationwide from October, on-farm and online, with a selection of breeds available.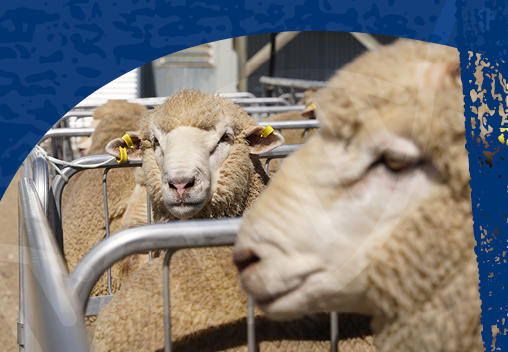 North Island Ram Sale Dates 2023
| Date | Sale Name | Time | Location |
| --- | --- | --- | --- |
| 6 Dec | Ratanui Terminal | 2pm | Wairoa |
| 6 Dec | Kiloran Polled Dorest | 2pm | Stortford Lodge |
| 7 Dec | Turiroa | 11am | Wairoa |
| 7 Dec | Argyle Romney | 2pm | Kaikohe |
| 8 Dec | Te Ruanui Poll Dorset Ram | 1pm | Matawhero |
| 30 Jan  | Waitui Wiltshire's Female Sale | 12noon | 40 Wairepu East Road, RD6 Taihape |
South Island Ram Sale Dates 2023/24
| Date | Sale Name | Time | Location |
| --- | --- | --- | --- |
| 5 Dec | BA & SC Robertson Merrydowns Romney & Southdown | 1pm | Waikorikoi |
| 5 Dec | Pareora Downs Beltex Sufftex | 2.30pm | Timaru |
| 6 Dec | Adelong Poll Dorset | 2pm | Ellesmere |
| 7 Dec | The Gums Half Bred, Quarter Bred Dorset Down & South Dorset Down | 2pm | Cheviot |
| 8 Dec | Frontline Romney & Suffolk | 1pm | Brightwater |
| 8 Dec | Red Oak Romney & Half Bred | 1pm | Weka Pass |
| 8 Dec | Maniototo Romney & Down Breed | 2.30pm | Ranfurly |
| 8 Dec | Kinnear Sufftex Mararoa Downs | 1pm | Te Anau |
| 12 Dec | PS Ponsonby Charollais & CharX Ram | 1pm | Gore |
| 13 Dec | Punchbowl Ram Sale Suffolk, Suff/Tex and Poll Dorset and Poll/Tex Rams | 1pm | Waiareka Saleyards, Oamaru |
| 13 Dec | La Mac Calma | 1pm | Kaituna |
| 14 Dec | Glenafric Corridale & South Suffolk | 2pm | Amberley |
| 14 Dec | Glenloe Dohne Ram | 1pm | St Andrews |
| 14 Dec | T&F Anderson South Down, Fairview Suffolk, Blythburn Romney Ram, | TBC | Winton |
| 15 Dec | Adams Suffolk | 1pm | Canterbury Park |
| 15 Dec | Wharetoa Genetics | 12noon | Clydevale |
| 19 Dec | Waterton Ram | 4pm | Cave |
| 12 Jan | JDE Duncan, Craigneuk Dorset Down, South Dorset & Halfbred Ram | TBC | Ranfurly |
| 16 Jan | Gore A&P Ram Fair, All Breeds | TBC | Gore Showgrounds |
| 19 Jan | Armidale Fine Wool Genetics Ram | TBC | Ranfurly |
| 22 Jan | DG Irwin South Suffolk & Texel x Ram | TBC | Mataura |
| 23 Jan | Southern Shedding Sheep Ram | TBC | Gore Showgrounds |
| 7 Feb | MT & SM Day Wiltshire Ram & Ewe | TBC | Winton |
| 4 Mar | Glen Robin Stud Beltex x Ram Lamb | TBC | Gore Showgrounds |