Protect crops with frost fans
Orchard-Rite® wind machines, also known as frost fans, have been used by growers to help protect their crops from cold weather for over 40 years and their proven track record for durability, reliability, performance and safety is unmatched.
Fruitfed Supplies has exclusively represented Orchard-Rite in the New Zealand market since 1980, so our experience with the use of Orchard-Rite wind machines in local conditions means our staff are well-qualified to help you determine whether an Orchard-Rite wind machine is the best solution for your frost-prone block.  Or visit www.orchard-rite.com for more information.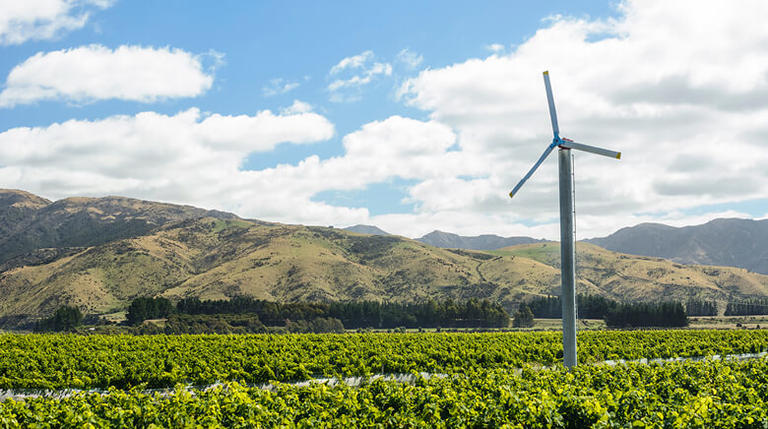 Wind machine selection for your site
A key reason why Orchard-Rite wind machines are so well regarded around New Zealand and the world is the ability to mix and match head and tower options to suit the specific requirements of your site's terrain. Flat, rolling or sloping – there is an Orchard-Rite wind machine for every site.
Orchard-Rite respects the laws of nature by designing wind machines to work with the topography of the orchard or vineyard.
Tools such as topographical mapping, aerial photography and GPS positioning are used to determine optimal placement on your site
For specific details on the combination of Orchard-Rite heads and towers to suit your site, please talk with your local Fruitfed Supplies representative. The options for heads and towers include:
The flat or standard gearbox provides protection on nearly flat sites or those with minimal topographical variations.
The tilt gearbox provides protection on sites with a slope of 2-6 degrees; designed for use with a single topographical variance, i.e. one continuous slope.
The contour gearbox allows the wind machine's actions to follow the site's terrain, providing custom coverage for sites with variations in slope direction and steepness.
Tower construction of 7.94m hot dipped galvanised steel for the two-blade machine and 6.35m for the tri-blade machine.
The straight or standard tower can be used on most sites.
The dog-leg tower compensates for slope steeper than 6 degrees; when combined with contour gearbox, this option provides coverage for slopes up to 12 degrees.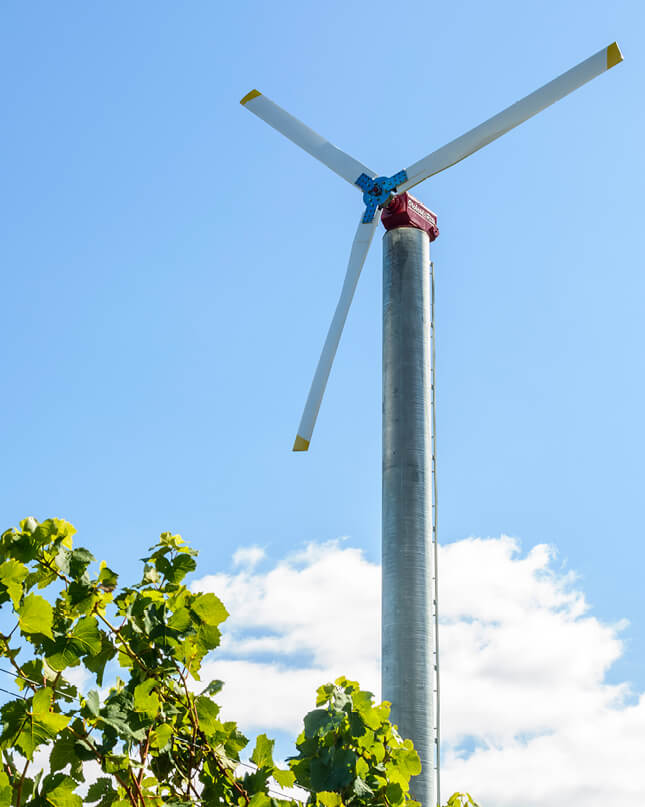 Wind machine benefits
Orchard-Rite wind machines come with the benefits of an extended warranty:
10 year guarantee on Orchard-Rite wind machine blades
5 year guarantee on the gearbox, driveline and tower and three years on the engine
Flexible product options
Optional blade lengths
Optional gearbox (head) and tower designs for different terrain requirements, e.g. tilt head, contour head and dog-leg tower
Gearboxes use a fail-safe oil submersion system for added reliability and longevity
Engine options include CAT 7.1 and CAT 4.4 Tier 111 diesel
Anemometer for automatic wind speed shut off
The anemometer, or wind speed reader, provides highly accurate wind speed data and provides an automatic blade shut off at high wind speeds.
Temperature-controlled auto-start
The auto-start system is the most convenient and economical way to manage spring frosts and winter freezes. Pre-setting start and stop temperature settings reduce both fuel and labour costs. 
A continuously-monitored probe located in your vineyard or orchard measures the ambient air temperature. When the temperature drops to a pre-set level, the auto-start system sounds an alarm before starting the wind machine. When the temperature rises to the pre-set shutdown temperature, the wind machine is automatically stopped by the system.
24/7 support during the season
Factory-trained and experienced service agents around New Zealand operate 24/7 during the season.
Retro-fitting to other wind machines
Orchard-rite fibreglass blades and gearboxes can be fitted to other wind machines, offering significantly increased air volumes, long blade life and excellent safety record to protect investment in the machine.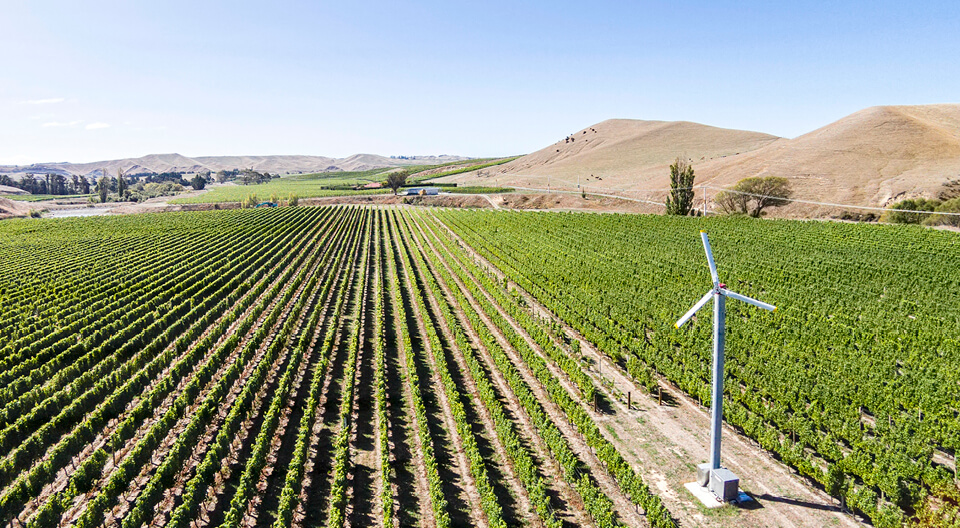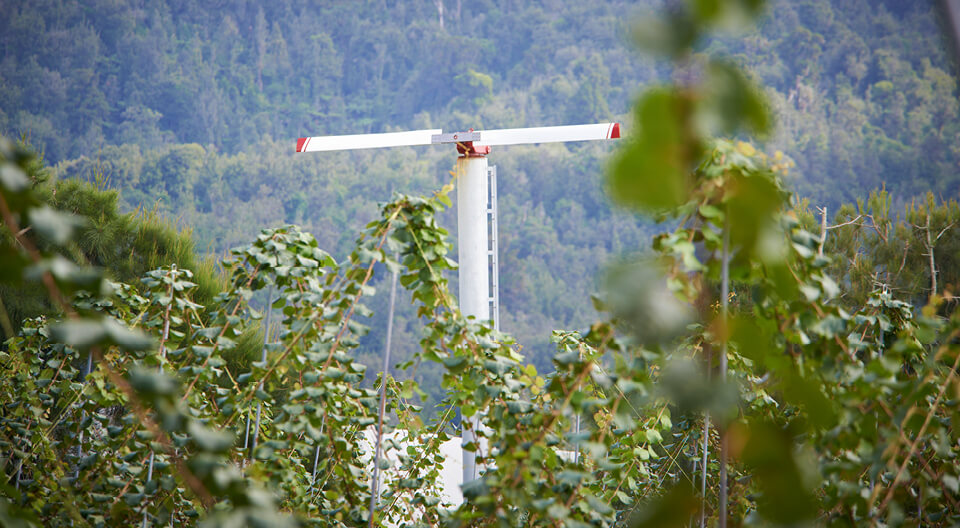 Remote Monitoring and Control System
ORCell, the monitoring system, allows for remote control and management of wind machines as well as collecting data from each machine transmitted via satellite to a web based internet service. True global coverage that reaches beyond cellular network barriers.
How wind machines work
During the day, the sun heats the earth's surface. The soil and trees become warmer than the air in contact with them, thus heating the air. At night, the colder air settles next to the ground and the warmer air rises forming the inversion.
Radiant frost occurs when a sudden drop in temperature, due to irradiation of the trees and soil, causes the surrounding air to cool rapidly. The chilled air settles into the lowest areas in the orchard or growing field, causing frost damage.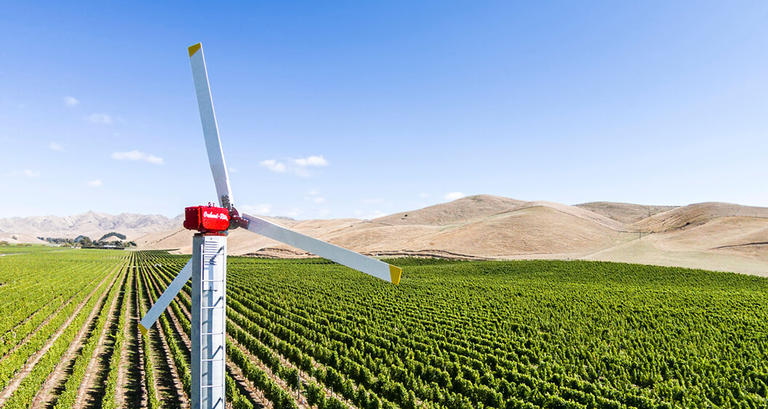 A wind machine works by powering an upward-angled blade at the top of a 10 m tower to draw the warm air from the inversion down into the crop zone. (The use of helicopters over crops uses the same principle.)
One Orchard-Rite wind machine is capable of protecting an area of six to 8 hectares (depending on the model), raising temperatures around the crop to prevent spring frost and winter freeze injury.
Wind machines are most effective when the inversion layer is 5-22 m above the crop zone and when the differential between the ground temperature and inversion layer temperature is 3-7ºC.