Video or image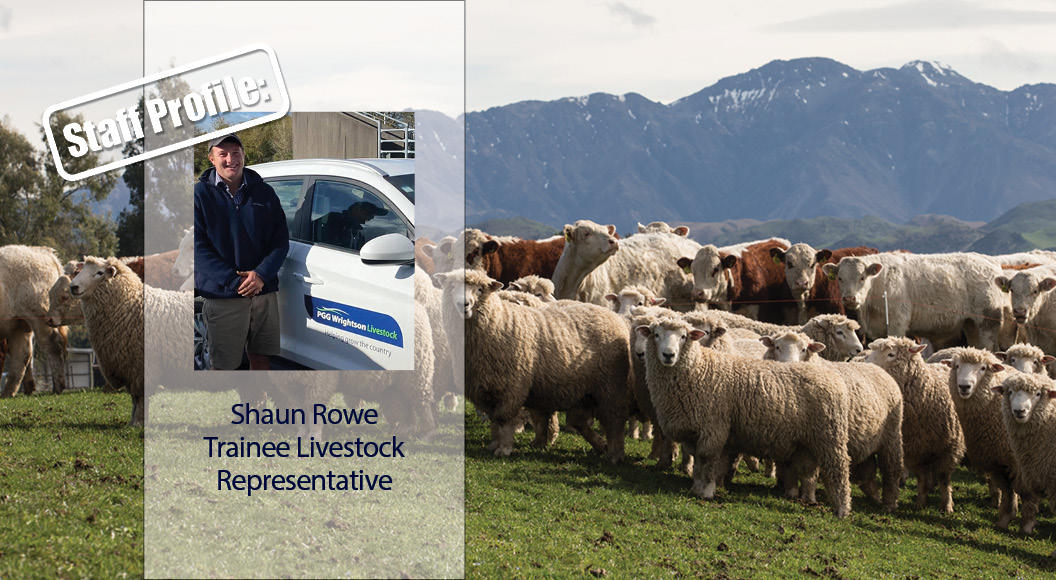 Over The Farm Gate: Staff profile – Shaun Rowe
The closest job to farming
Ever since he was a young lad Shaun Rowe has been a farmer.
"At the age of six I started my own flock of half a dozen ewes, taking the lambs to the Stratford saleyards," he says.
Shaun's parents have a 10 hectare Stratford lifestyle block where they graze dairy heifers.
"I grew up helping with stock where needed. I always had a love of the land and livestock, including developing the same flock I started as a six year old, which I've carried on ever since.
"In those early days of selling lambs, our neighbour was Murry Austin, an experienced PGG Wrightson agent. Murry would always auction my lambs and drop off a ram each year. In year 12, doing work experience, I was thrilled to spend one day a week out of school with Murry, gaining extremely valuable experience, a greater understanding of the job and the desire to pursue a career in farming," says Shaun.
Also at Stratford High he helped set up the school's first Young Farmers club, carrying on at university where he was part of the Massey Young Farmers club and into the present where he is a Central Taranaki Young Farmer.
Elsewhere, Shaun took every opportunity to expose himself to agriculture's wide range of skills and practices.
"I spent school holidays helping on family friends' dry stock farms, which gave me a good sheep and beef grounding. I also spent time on other friends' dairy farms and working for my father, who is a self-employed fencing contractor."
After graduating from Massey University with an agri-science degree, Shaun returned to Taranaki shepherding on a Huiroa dry stock farm, building his practical farming skills before taking an opportunity on PGG Wrightson's cadet programme in April 2021.
"Apart from farming itself, being a livestock rep is the closest job there is to farming. I really enjoy the chance to work with a range of livestock and a range of people. I'm surrounded by people with extensive knowledge and experience, gaining insight into so many different farming systems, which is one of the great privileges with my job," he says.
Auctioneering is a particular skill Shaun is developing.
"Listening to and watching the team's experienced auctioneers do their thing and trying to take away any pointers is a massive part of the training.
"After a month on the job, I was helping sell 22,000 lambs at the Fielding saleyards and had a chance to sell a couple of pens, which was awesome. Just recently I also took to the Stratford saleyard rostrum to sell cattle for the first time.
"To improve my individual style and develop a good patter, I practice in the car and take bids off the power poles that I drive past. Auctioneers must understand a few finer details about running a public auction, and the Stratford sale is where our senior auctioneers are able to provide feedback on what I need to improve."
Missing the practical aspect of farming is the only downside for Shaun.
"I overcome that by keeping my hand in shearing here and there.
"Farm ownership is a long-term goal, leasing land and building equity in livestock. I appreciate that will be a long shot, especially not having a family farm, however I am willing to work hard and you don't know what you can achieve if you never give it a go.
"In the meantime, working in livestock is a great grounding."
Aside from work, and Young Farmers, which this year included his first time competing in the Young Farmer of the Year at district and regional level, during the rugby season Shaun features as lock or blindside in the Stratford Eltham rugby club senior B team.
Back to News