Video or image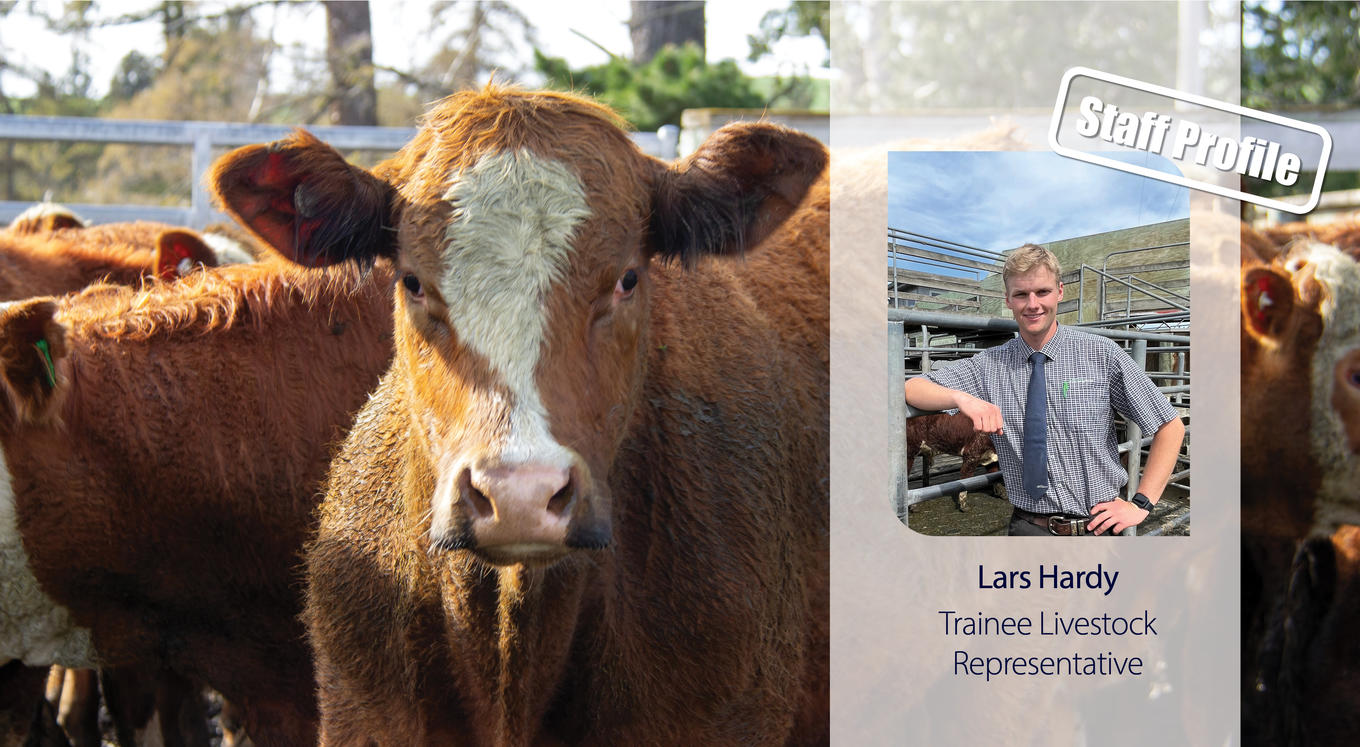 Staff profile – Lars Hardy
Giving it a good crack
Like father, like son and like many others who trade sheep and cattle, Lars Hardy is a second generation livestock representative. His father Chris originally started as a rep with Wrightsons in Manawatu in 1990, before going farming himself, first on leased properties, eventually working his way into his own farm south of Waipukurau, tucked beneath the Ruahine Ranges, where Lars grew up.
"Dad has sheep, cattle and deer, breeding and finishing approximately 12,000 stock units: Friesian bulls, Romdale ewes, plus a few red deer. With his background as a rep, Dad always does his own drafting, and chooses his own stock. I grew up watching him, and learning about that. It's partly what inspired me into livestock myself," says Lars, who became a PGG Wrightson Livestock trainee in March last year, based in Waimate. 
Lars faced a big challenge early on.
"Last winter, only a few months into my traineeship, my trainee sponsor Kelvin Sadler needed an operation, and I was tasked to look after day to day activities. I was in the deep end, in charge of his area. Being new to the job, that was a bit daunting. It felt like a sink or swim situation. I managed to stand up to the challenge, and gave it everything I've got, and with the support of my South Canterbury colleagues, managed to do it."
After finishing school in 2019, Lars went south from Central Hawke's Bay to the University of Canterbury, studying economics and during his holidays going contracting through Mid Canterbury, alongside farm labouring and shepherding work. When the PGG Wrightson traineeship opportunity arose in Waimate, he was ready and willing.
"I only knew one person in South Canterbury, a good mate from boarding school. I asked him and his parents if they had a room for me to stay in. They were very welcoming, and really helped me find my feet. They have a 10 hectare lifestyle block, which they're letting me use as a lease property, so I'm running it as if it's my own place, with a small mob of lambs and cattle."
Owning stock has helped Lars appreciate the region's agriculture credentials.
"South Canterbury is the central hub for livestock in the South Island. We have stock coming from Southland through to further up north. We have store breeding country, coinciding with finishing country, meaning plenty of deals and stock movement within the region, Temuka Saleyards being the second biggest in the country." 
Rugby has also helped Lars gain a deeper understanding of South Canterbury: a lock and loose forward, he played last season with Waimate RFC, transferring this season to the Pleasant Point Mud Dogs.
"I've made some good friends in both teams, people I expect to stay mates with for life. This year we managed to finish top four, though unfortunately lost our semi in a close, hard fought game."
Off the field teamwork also features highly.
"We have a cool and unique team of livestock reps here. I really appreciate the opportunity to work with the South Canterbury guys. I've learnt so much from them, and have been fortunate with what they are willing to teach me."
Now though, his traineeship almost complete, the next chapter is taking shape for Lars: back north, closer to home, in Dannevirke.
"I've accepted an opportunity to be an agent up there. With the family home farm about 25 minutes away, I have quite a few local links, though it is a new area that I'm not really familiar with, so I'm looking forward to going up there and giving it a good crack," he says.
As a young man early in a livestock career, Lars expects to see plenty of change in the future.
"Likely the rules and regulations around how we farm will tighten. They are already having an impact on certain farming practices, and we have to become smarter in how we do it. 
"That includes marketing agriculture as an industry. There are a few new perspectives in the world on what farming is and how it is done, how it is sold and presented, and that's not a bad thing. How are we going to adapt as a country, while maintaining primary production as a financially profitable sector, still enjoyed by everyone? New Zealand was built on the agriculture business, and we need it to sustain ourselves. How we adapt to the changing environment and culture is key to the future."
Lars Hardy is set to move to Dannevirke in the spring.
Back to News