Video or image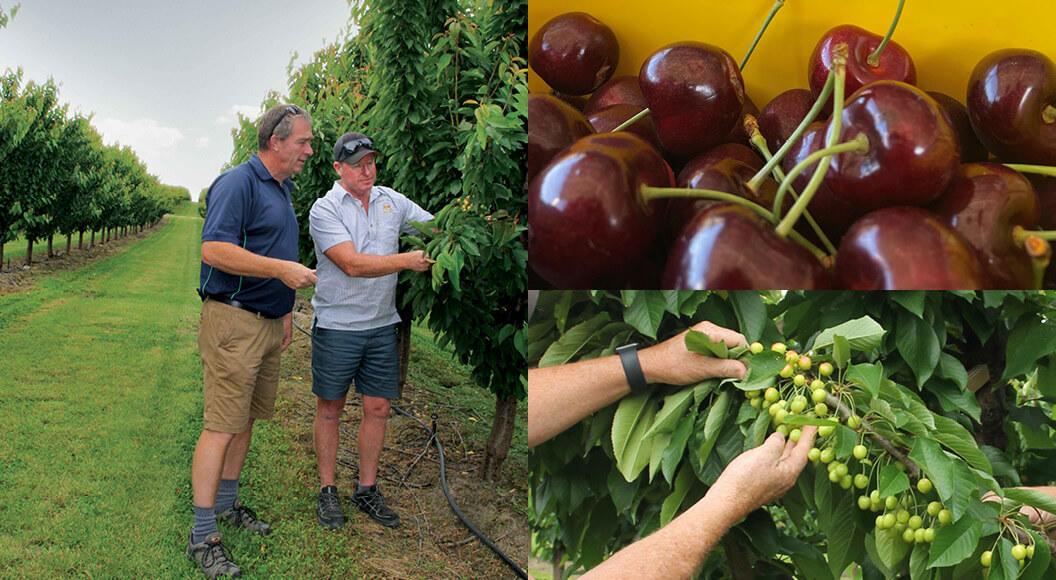 3 Kings Cherries Reigns Supreme
Pictured: Fruitfed Supplies Technical Horticultural Representative, 
Blair Deaker, assesses potential fruit drop in the cherries with Tim Paulin, 
Managing Director of 3 Kings Cherries near Dunstan, Central Otago.

The 'Three Kings' rock formations sit on the mountains above the Clutha River and overlook the Clyde dam and across the valley to the orchard that carries their name. They were aptly named by Peter Paulin in the 1980s.
The Paulin family has been growing fruit in Central Otago for more than 100 years since Robert Paulin bought his first Clyde valley orchard in 1921. Robert's grandson, Tim Paulin, used to run in the foothills of the Dunstan mountains in his rugby playing days and he noticed there were warm patches of air on this particular piece of land. Tim explains, "20 years ago we put some data loggers out and found that in general it was warmer on frosty nights but in a snow event it was about the same as the surrounding area but didn't get the killer frost. The sloping land means that most of the cold air drains out which are perfect conditions for growing fruit." 
In 2017 Tim was part of a syndicate that purchased the sheep farm where he used to run, and 3 Kings Cherries orchard was founded. Tim spent the next few years clearing the land and planting cherry trees. The 42-hectare canopy orchard will produce 400 tonnes of Fulfar, Kootenay, Lapin, Regina, Staccato, Stella, and Sweetheart cherries each year when at full production.
Tim's long-standing relationship with Fruitfed Supplies began when he started working in orchards in Central Otago in 1996. Since then, Tim has worked with a number of Fruitfed Supplies Technical Horticultural Representatives (THRs). Blair Deaker, Tim's current THR, has supported Tim for five years. Tim says, "I've always worked with Fruitfed Supplies and I've had a very good relationship with its THRs and its always gone well. The premium export cherry market is extremely competitive, and I have confidence that Blair will deliver what I need when I need it. I can rely on Blair to be one step ahead, anticipating my needs in advance. Everything turns up when I need it, especially when requiring critical sprays, as you need to know that you've got them coming before you require them".
Tim has designed an efficient operation with the orchard's irrigation which runs on solar and is gravity fed. He can control the system from his phone and monitor the flow rate and how much water has been used at any point in time. His spray programme monitoring is digitised, he can see on screen the rows that have been sprayed and if any have been missed or doubled up on, removing wastage. "Blair does the soil tests for me and from there we then discuss the fertiliser requirements. I've planted clover for its nitrogen fixation properties along with other grasses."
Mowed grass is thrown under the trees to increase the soil organic matter and suppress weeds which also helps to retain soil moisture. Additionally, there is no clean raking under the trees which allows the wood to breakdown into organic matter in a more sterile environment, thus improving soil health.
A new packing facility was built in 2020 with state-of-the-art technology and processes. The packhouse was built as close to the trees as possible so cherries are picked and packed in one day. The processing system uses optical recognition to detect the shape, colour, size, and complexion and a 360-degree view of each cherry provides exceptional accuracy. Processing occurs at extraordinary speeds of up to 30 cherries per second or approximately four tonnes per hour. "This allows us to strip pick the crop which is more economical as we don't rely on the pickers to sort the cherries, the accurate processing system does it for us. The whole process is a lot more precise now and we're making sure we're getting the right money for the right sized cherries," says Tim.
Blair enjoys working with Tim and the initiatives undertaken to run as sustainably as possible. Blair says, "Being a new orchard allows Tim to be at the leading edge of development and I enjoy being challenged by different growing techniques such as a trial with closely planted trees (1m apart), that is only growing fruit close to the trunk, so producing more cherries per hectare and requires fewer pickers and pruners. This is especially important now that labour has become such a major cost factor in growing."
Working with Fruitfed Supplies
Blair Deaker joined Fruitfed Supplies in 2018 and is a THR servicing horticultural and viticultural clients across Central Otago. Blair has been a grower himself and enjoys the challenges that come from the different crops, locations, and climate. Blair says, "Every grower has different goals on their blocks which keep things interesting, as what works for someone might not work for another or a grower may transition from a conventional to a biodynamic block. I enjoy my relationships with growers, and helping where I can so they can achieve their end goals, whether it be cherries or grapes."
Photos supplied by 3 Kings Cherries
Back to News