PGG Wrightson are one of New Zealand's largest sellers of deer velvet and operate a network of 67 depots, located within our retail store network.
Join us in marketing your velvet to world markets and benefit from:
Secure processes for full payment back to suppliers
Experienced seller/exporters, nationwide team of agents and skilled graders
Consolidated velvet to meet buyer requirements
Informative updates
Long, established reputation within the market.
 
Velvet Sale Options
Payment Schedule (PS)
Weekly grading and payment within 7 business days of sale to be sold at PGG Wrightson's discretion
Own Sale
Larger lines graded and sold in keeping with supplier preferences and sold at PGG Wrightson's discretion or suppliers instructions
Hold
Stored as ungraded (no charges until sold)
 
Velvet Procurement
Our velvet procurement responsibilities include:
Adhere to the DINZ and MPI standards for storage and transportation of deer velvet i.e. protect the image of our product
Manage the relationship with velvet producers to ensure requirements are met at a satisfactory level
To apply service level standards for both PGG Wrightson staff and procurement agents.
View the PGG Wrightson Velvet terms and conditions of supply.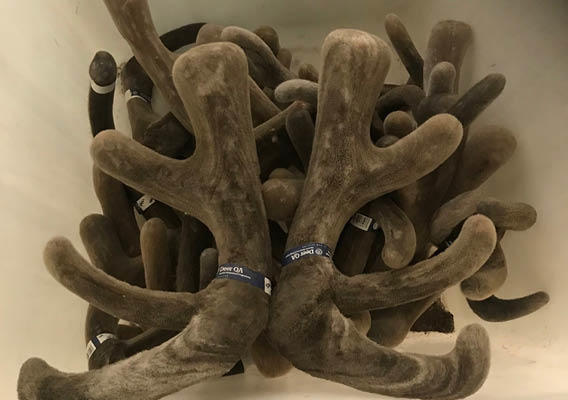 Velvet Competitions
PGG Wrightson Velvet is proud to be a principal sponsor of the National Velvet Competition and is involved in many other velvet competitions held annually around New Zealand.
 
Velvet Reminders
Rounded tops and tips are best
Please ensure velvet is frozen promptly without denting
Veltrak tags on all 1st cut velvet, regrowth and spiker tag the bag
Our bags have a maximum weight of 20 kg
All velvet must be received frozen
Supplier charges are $5/kg & 3.95%
Reduced charges on HA1, HA2 and Buttons
New Zealand Industry Agreed velvet grading guidelines >
Elk/Wapiti velvet grading guidelines >
 
Email Gradings
With prompt information a priority for farmers, we now have the option of emailed grading sheets and credit notes. If you wish to have your grading emailed instead of waiting for snail mail, please let us know at enquiries@pggwrightson.co.nz.