Video or image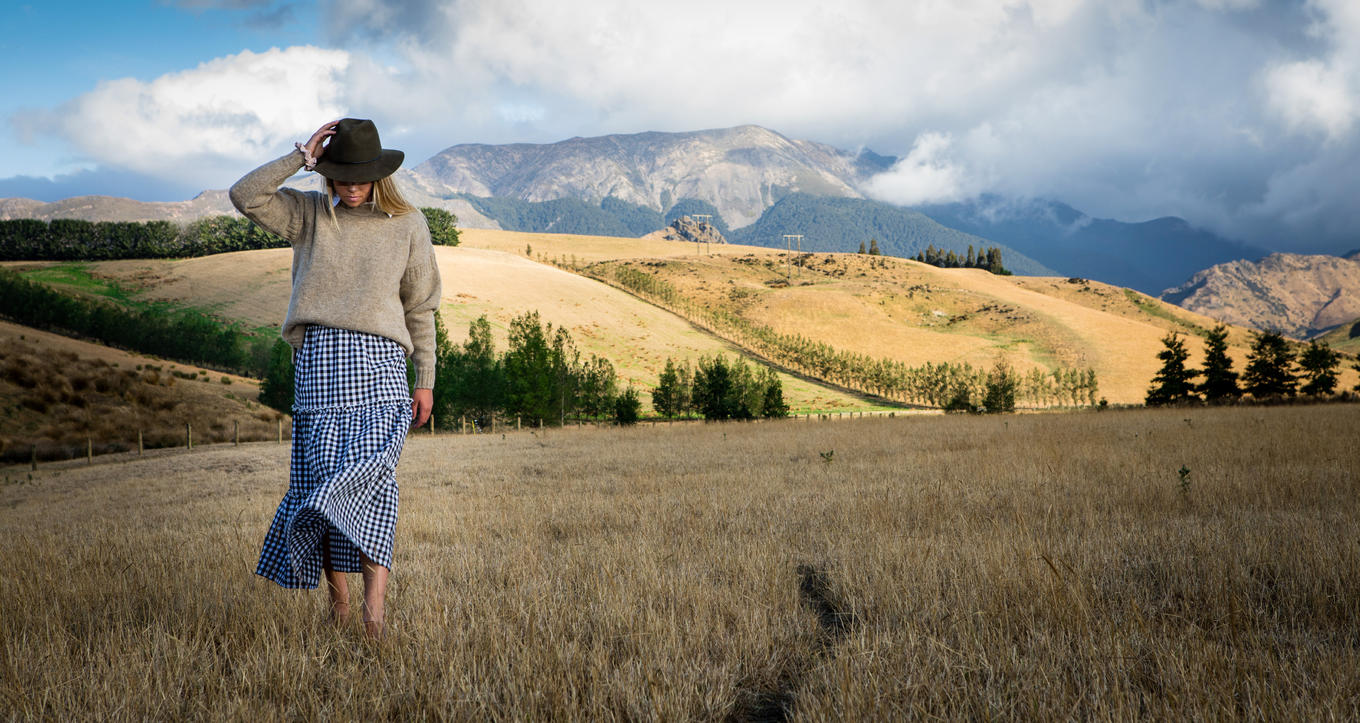 Wool Street Journal: Fifth generation Southland farmer launches new knitwear brand
Kate Macdonald wanted to add value to the wool produced by the 6500 Romney, Perendale and Texel cross ewes on her family's Southland farm. In February, after two years of preparation, she launched a new fashion knitwear brand that transforms the farm's clip into high-value garments illustrating the story of wool's natural, durable, biodegradable properties, as well as the Macdonald family's farming heritage.
"Clothing is no longer a common use for strong wool. As growers, we are told to believe our clip is only good for carpets or upholstery. That is wrong: crossbred wool is a beautiful, natural product, and it can be worn," Kate says.
Kate's family has farmed 1100 hectares Davaar Station, Te Anau, since 1915. Along with sister Anna and brother Ben, 25-year-old Kate is in the fifth generation of Macdonalds on the farm, which adjoins the Mararoa River and the Takitimu mountain range, carries 11,000 stock units, and is currently farmed by the siblings' parents James and Fiona.
"Like many other rural children, we grew up wearing homespun jerseys knitted by our grandmother. Though when I went looking for similar styles to buy, they were not available in any store," says Kate.
In early 2020, Kate had returned home after a few years working in a marketing role, following an agribusiness and food marketing degree at Lincoln University. She planned to work on her parents' farm with the intention of heading away to London. Unfortunately, the pandemic curtailed any chance of her OE, taking Kate in an entirely different direction.
"Although it was frustrating not to be able to go, Dad and I had talked for years about adding value to our own clip. Their previous shepherd had just moved on, and since my plans had changed due to Covid, I suggested I could do that job while working on the wool project on the side," Kate says.
When more research indicated that Kate's homespun style jersey could be a realistic 'farm to fashion' business opportunity, James put her in touch with PGG Wrightson Wool General Manager Grant Edwards. Davaar Station is a long term PGG Wrightson client going back years, supplying between 150 and 200 crossbred bales per annum in recent times. At the same time, the family also provides wool via its associated Kilbrannan farm.
Grant connected Kate to Andy May of Lower Hutt-based Woolyarns, who also brought Geoff Keogh of Otago Knitwear into the conversation. They have become the links in the chain: wool from the Davaar woolshed going first to the Washdyke WoolWorks scour, then north to Woolyarns for spinning, before returning south for Otago Knitwear to make the jerseys in Dunedin, from where the finished product goes right back to Kate's Davaar Station farm cottage for distribution.
Establishing that pathway however took plenty of effort, trial and error.
"In 2020 I made multiple trips up to Dunedin to refine the product. The wool was too itchy and scratchy for the first couple of runs. We were still confident we could come up with a viable product, and the second time around Andy created a yarn using the same micron wool that wasn't as coarse as that first yarn," says Kate. We use four-inch second shear ewe wool, 36-37 microns.
Andy explains: "Although Kate was encouraged with the first trial, she challenged us to refine the manufacturing specification to create a finer yarn while maintaining the integrity of the crossbred fibre."
Kate was determined nothing would go to market before she was totally happy.
"By the start of 2021, we had removed the itchiness and were ready to work on sizing, designs and styles. All along we have reached out for feedback: asking people who will wear them, friends, family, to try the jerseys on, and give us their honest, constructive opinion, good or bad, so we could further refine the garments. In refining a product, there's nothing better than asking your target market, the ones who will ultimately use your product. From there we have developed designs around necks, length and cuffs," she says.
Taking its name from the property, which in turn came from the island on the west side of Scotland that the Macdonalds originally came from, Davaar & Co is offering four styles of jersey: The Wild Wanderer, The Suave Shepherd, The Lucky Lass and The Modern Musterer. Using four bales of wool, they have produced close to 500 jerseys in the initial run, made in four colours: granite, tussock, bark, and snow.
"We wanted natural colours and a range that reflects the environment we live in. As a sustainable brand, highlighting wool's natural qualities, we have been able to source an environmentally friendly dye, which is very important to us," she says.
After the launch, which was marked on the farm by a gathering of friends, family and others who have helped Davaar & Co to reach this point, interest has been steady.
"For any other farmer thinking about doing something similar, wanting to add value to what they grow or produce, I'd urge them to, there's no harm in trying. Today farmers are so busy with so much going on in their lives, it would be difficult for them to find the time to execute a value-add project as a division of their business. You have to have support and it has to be a team effort, whether that is from your parents, partner or children.
"It has been a challenge, which has required huge commitment, time and vision to follow the idea right through to a finished product. I'm very grateful for the support and guidance I have had from both of my parents and people around me, particularly my Dad.
"Although I had marketing experience from my degree and my previous jobs, Dad has been my main go to. He is really amazing in terms of a business brain with financials and budgets. He's been a mentor for me in getting this business off the ground and someone I have turned to for advice and business experience.
"Just don't ask him about websites or social media…"
Back to News