Video or image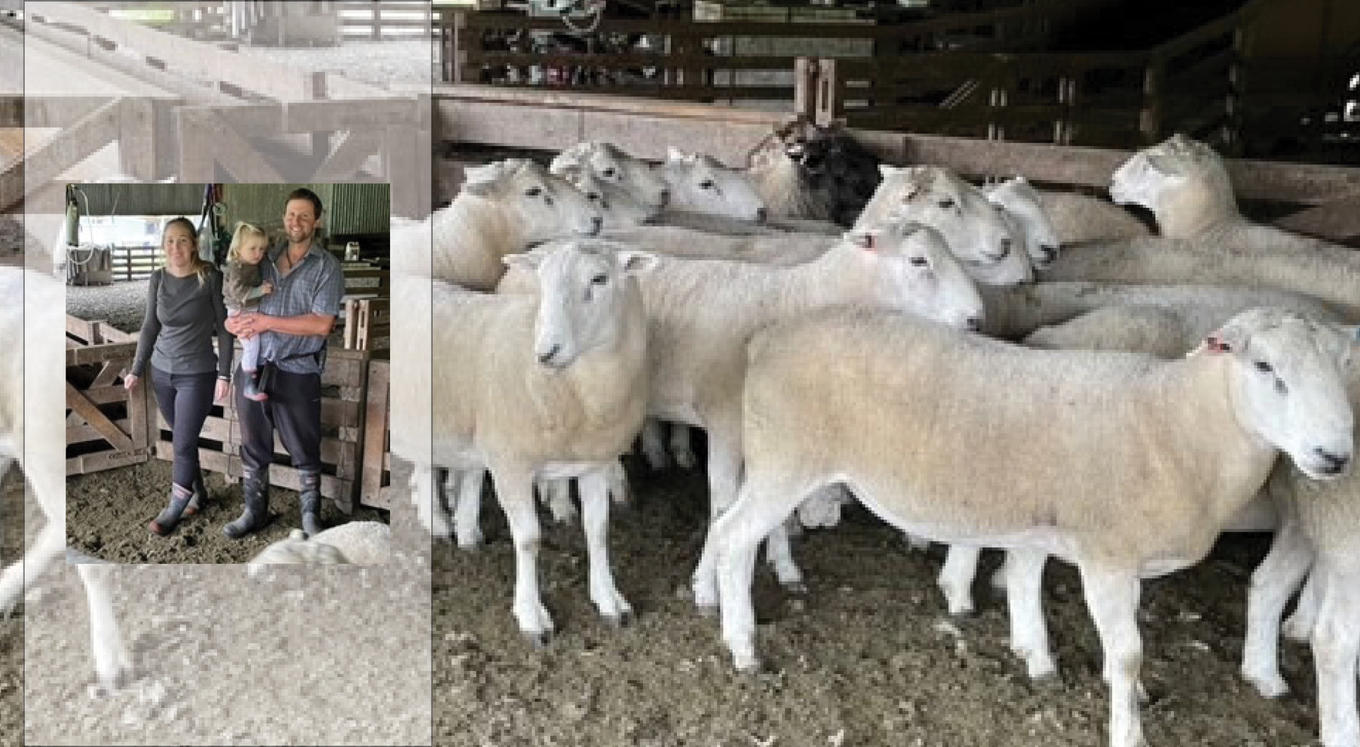 Wool Street Journal: Breeding innovation heading towards easy care 'sheep of the future.'
Steve Ashman and Greer Reeves farm in the Pehiri district on a 376 hectare Gisborne hill country block. They bought the farm from Steve's parents in 2017, saving for it by wool handling, shepherding in Tolaga Bay, mustering and shearing, including in Scotland, Sardinia, and Sicily, the heart of mafia country.
Steve shears their sheep, and Greer does the wool handling with that background. They take advice and sell the clip through PGG Wrightson East Coast wool rep Chris Payne. In consultation with Chris, Steve has come up with an innovative approach to maximise the efficiency of the farm, which could produce the 'sheep of the future,' as he explains.
"Doing all our own shearing, and since wool prices have dropped, I've been thinking about ways to make farming sheep as easy as possible.
"Our sheep are a Coopworth-Perendale base. Our flock is around 1500 ewes, and we keep around 450 replacements per annum. I wondered if we could breed a sheep with no B wool: eliminating all the lower value stuff, so no crutch or belly wool, leaving just a straight fleece of the best value wool. Could you produce a sheep that's quicker to shear, at less cost, needing less wool handling, shorn just once a year? That was the goal. We decided to see how some different genetics would go in the flock and whether we could breed an easy-care sheep that way, still maintaining per head production and quality," he says.
Chris and Steve discussed the idea with Hinenui Genetics, who specifically bred and provided 'Hinenui Ezycare' rams. Steve is happy with the results so far.
"When you do a cross of any sort, there is a significant variation. We had around 30 per cent of the lambs born with the characteristics we were looking for, so it seems like we are on the right track.
"From here, with the culling process, we should be able to better ensure more lambs meet the criteria over the next few seasons," he says.
Chris says Steve and Greer are well on track to an easy-care sheep.
"They want to produce a good, marketable fleece, with no skirting on it and once a year shearing. Making a direct comparison through the meatworks between the standard progeny of Steve and Greer's flock and the variant cross lambs, there is no trade-off in carcass yield, and we have maintained facial eczema tolerance in the progeny.
"If consumer trends opposing docking animals shift onto sheep, appeal for a breed that requires no crutching or dagging is likely to increase.
"Monitoring fertility will be an issue that we need to take care around, though that apart, it looks as if we will achieve the easy-care result Steve and Greer are seeking," says Chris.
Steve has already decided to put the whole of the couple's ewe flock to 'Ezycare' rams this year. Hinenui Genetics is on the case to provide them with a stabilised ram that meets Steve and Greer's vision of low inputs while retaining the critical production and health traits. Longer-term, Steve intends to determine what percentage of genetics gives the best performance, though that may take a few more seasons of trial and error.
Chris says that anything is possible, and innovation is always worthwhile.
"If you look at old photos and even old paintings from centuries ago, sheep have changed due to genetics, and different breeds continue to evolve. It begs the question, what might the future sheep look like? I take an open mind with every client: whatever they choose to do, I will go with it. We can tailor-make solutions for everybody. While what Steve and Greer wanted to do is different to other clients, that is how you make progress, and helping them achieve the result they are after is a highly satisfying exercise that could have wider benefits," Chris says.
Back to News