Video or image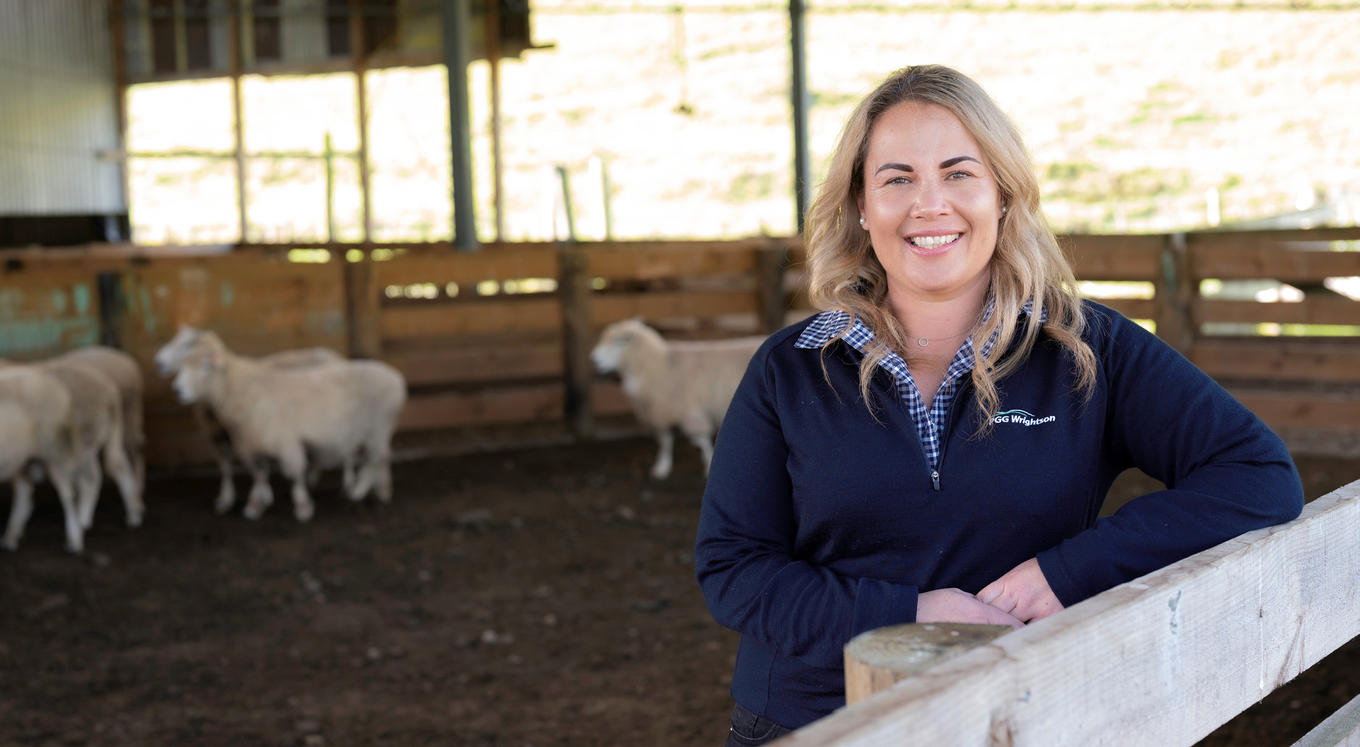 Staff profile: Tara Marshall – Working with shearers and farmers has helped me grow.
Tara Marshall has been in wool all her life, and then some. She grew up on her grandfather's 1000 hectare farm in Ohura, north of Taumarunui. Tara started working in shearing gangs at the age of 17, which she did for a couple of years before heading to Hamilton and a year in the SkyCity cashier department. Then in 2006, she took on her shearing run, mainly on farms north of Taumarunui through Ohura, Matiere and Ongarue.
"I had a great time. I made it my mission to learn as much as possible about the whole industry. I went for as many qualifications as possible: shearing, wool handling, on the press. When you are a contractor, you have to be able to do everything. It prepared me for competitive shearing and competitive wool handling. I competed for five years and was a board member of Shearing Sports New Zealand in 2017. 
"Although that is loads of fun, and I plan to make a comeback when competitive shearing comes fully back on stream, the friends I've made and the farmers I've met are the best part of running a shearing business. 
"What I've always most enjoyed about the industry is the people. You meet so many from different walks of life. You always have something to learn from everyone you meet, young or old. Everyone has some knowledge you can learn from, whether that be about the wool industry or general behaviour. Working with shearers and farmers has helped me grow into the person I am," says Tara. 
Her passion for learning has evolved into a passion for teaching. She is now on the books of wool training organisation WOMOlife, running courses in Te Kuiti on various aspects of the industry.
In 2018 Tara sold the shearing run and went to work at her local Matiere School, teaching sports and doing administration. Missing wool, she went back into wool handling down south: working at Ida Valley, Cecil Peake and the Dingle Burn, where she immersed herself in fine wool and learnt the ins and outs of merinos.
"I'm always up for a challenge. I try not to let anything beat me. I always want to find a solution, and I always work towards it," Tara says.
Work ethic is a big part of Tara's personality. In 2020 she was in Boyup Brook, Western Australia, working for another Taumarunui export Floyde Neil. 
"I was stuck there due to covid, and we could not leave Australia, so I vowed to keep working, no days off until I had my ticket home. In the end, we worked 111 days straight," she says. She documented the whole effort with daily posts on social media, exercising her photography skills. 
When her ticket finally came through, and after a say in MIQ, she returned to working for Neil Fagan in Te Kuiti. In January, her sister showed Tara an advertisement seeking applications for the role of PGG Wrightson King Country wool representative. 
"It was not something I ever thought I'd do. When I read the job description, though, it looked like a challenge, definitely up my alley, and the more I thought about it, the more it seemed like a good idea, so even though I've never done a CV before, I had a jump at it."
Tara says she's always been a goal setter and always been able to achieve whatever she needed, so naturally enough, she was offered the new role and started in late March. 
She is most looking forward to meeting new people.
"I have some new ground to cover. I'm now taking a greater interest in the way people farm and different things that will work. Although parts of King Country are my home patch, this role takes the whole region into Taranaki.
I'm looking forward to increasing my wool knowledge, taking it up to the next level," she says.
Outside work, Tara spends most of her time with her four daughters, aged between seven and 15.
"Two of them play rugby, so we spend a lot of time watching that. I used to play when I was younger, and both my father and grandfather always played." Like their mother, Tara's daughters are both half-backs.
Back to News