Video or image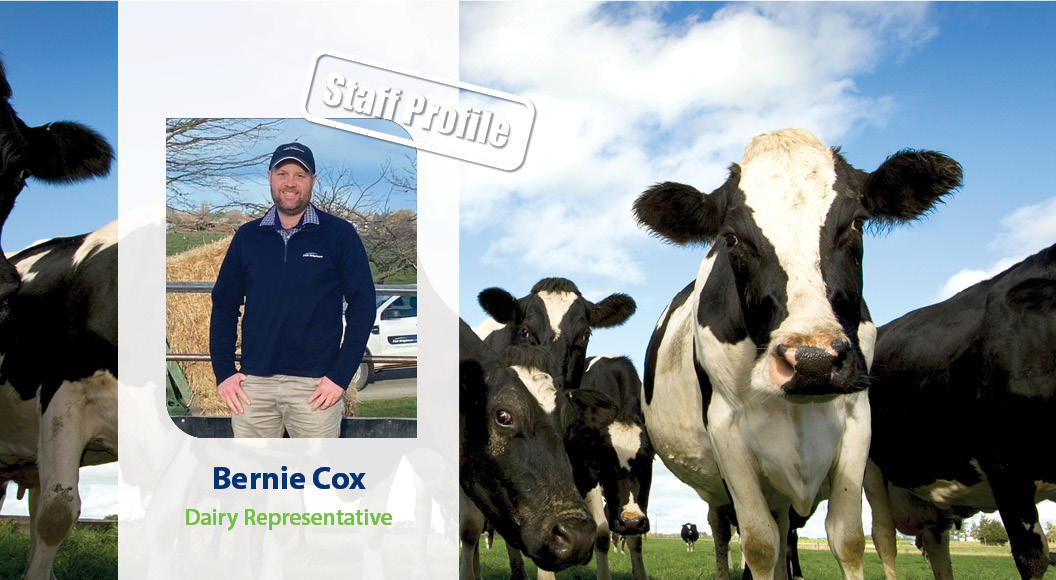 Staff Profile - Bernie Cox
Knowing how to look at a cow
Bernie Cox became a PGG Wrightson Livestock representative in June this year, working with dairy farmers between the Rakaia and Rangitata rivers. Although he is a newbie at this, Bernie brings 15 years in dairy farming to the role, plus high level experience as a livestock show judge.
Bernie grew up on the family farm, Tararua Ayrshires, a property well known in the Wairarapa as a successful stud, built up by Bernie's father, Charlie. 
Bernie began dairy farming in 2007. 
"I started working at Maire Farms in the Manawatu, before lower order sharemilking in the Wairarapa moved up to an equity shareholder, and then onto managing farms, for the past six years in Canterbury."
Most recently he managed a hybrid farm out of Mayfield, Mid Canterbury, including a 650 cow free stall barn where they calved all cows in the autumn, milked through winter, and dried off briefly in summer.
After 15 years on the dairy industry's front line, with his wife Sarah working off farm in media sales, and two young daughters Tennessee (two and a half) and Delilah (six months), Bernie decided it was time for a shift of emphasis.
"Becoming a livestock rep was a great option to make the most of the aspect of farming that I most enjoy: the stock, and I'm keeping a handful pedigree Holsteins and a couple of Ayrshires to continue with that strong interest in genetics. 
"Moving to the new role in the past couple of months has been big change, though I'm really enjoying focusing on one thing only and directing all my attention to that."
Coming to it fresh, though having seen plenty of others doing it, Bernie believes communication is the key skill for an effective livestock representative.
"Someone with knowledge and straight up answers, who gets back to you with the information you need. With any livestock transaction, seeing both sides of the deal happy is the objective. You have to state clear options to each party: 'This is what the animals are, this is what their value is.' 
"A good cow can be different to two different people. Different people like cows of different sizes, and different values on paper. You need be able to find individual cows, and match the right customer to the right profile and the right group of animals. If you have a client looking for 20 cows, and I have 20 cows, that's not necessarily enough. If they're not the right cows for that client or that farming system, not fit for purpose, then you need to keep looking," he says.
With his background as a livestock judge, Bernie knows how to look at a cow in an educated way.
"As a judge, there is pressure to get it right, though as you get older, your skin gets thicker.  At a livestock show, not everyone agrees, though at the end of the day the judge is always right, which is different to the role of a livestock rep, where you have to be able to mediate, and work out what is in the best interests of each party doing a deal."
Having judged at several major dairy shows throughout New Zealand, including the New Zealand Dairy Event in 2022, and the national finals of the Holstein Friesian New Zealand Semex NZ On-Farm Competition in 2018, Bernie's experience in the show ring makes him more confident in what he's looking at for a client.
"I like all cows, whatever the size and colour. As a livestock rep, you need to be able to identify different stock to fit into a particular system or herd, which is not quite the same as judging them in the show ring, though knowing how to look at a cow is certainly common to both, as well as gathering up the data to back up what you are seeing in front of you." he says.
Back to News