Video or image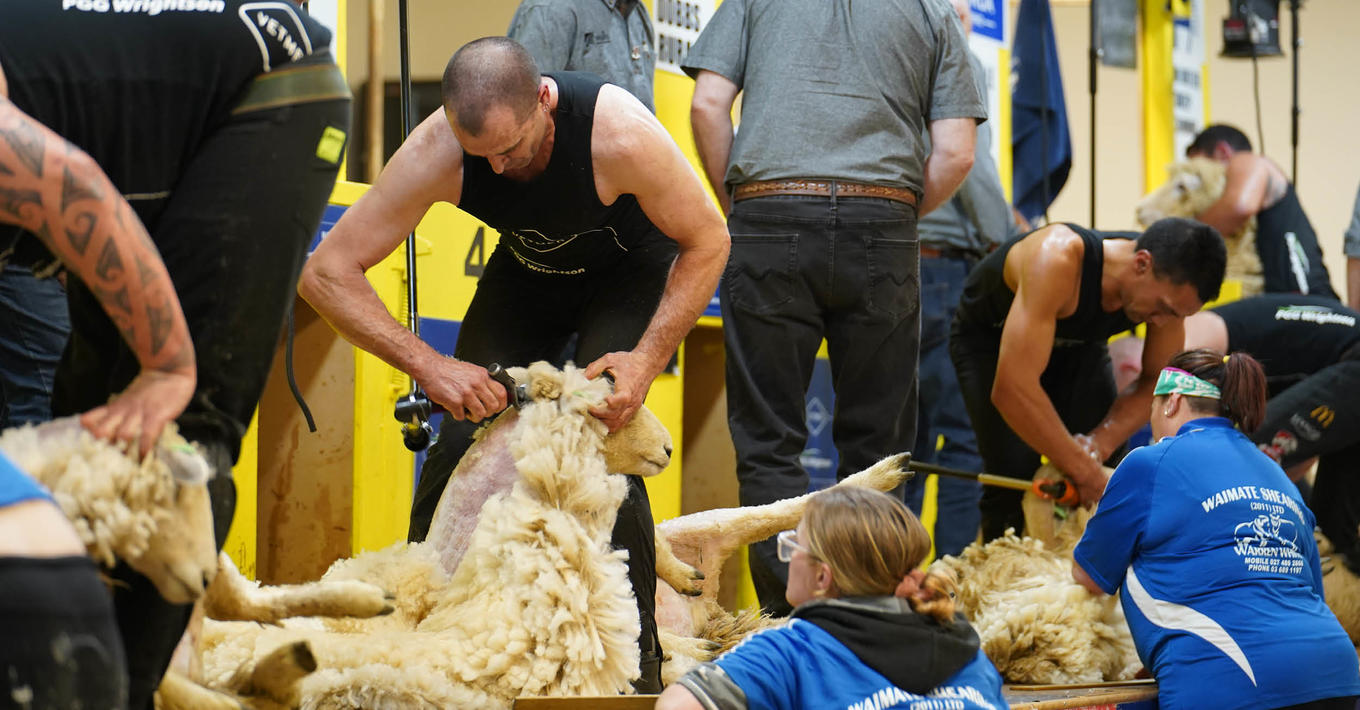 Southland gun Samuels makes it a double
Southland shearer and New Zealand representative Leon Samuels completed a double of the traditional first two titles of the shearing sports season when he reclaimed the Waimate Spring Shearing Championship open shearing title in Waimate on Saturday.
Samuels, winner of the national fine wool championship at the New Zealand Merino Shears title in Alexandra when the season opened in Alexandra seven days earlier, had won the strong wool title in Waimate in title previously in 2021.
His double in both events now is the first in the two events in the same season since fellow Southland shearer and New Zealand team member Nathan Stratford won the two titles in 2018.
Stratford was runner-up in Saturday's six-man final, with Samuels winning by just 0.32pts.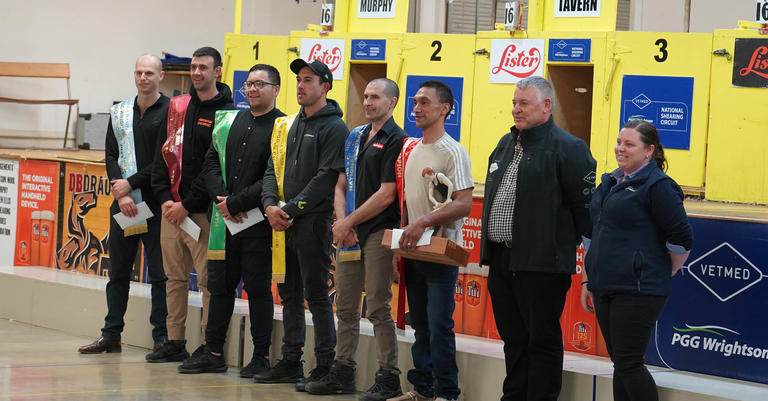 In a final which featured three South Island shearers and three from the North, third place went to North Island gun Toa Henderson, who was first to finish the 16 sheep in 15min 23.51sec, beating Samuels off the board by 3.12sec in a frantic race for time honours.
It was just the 18th open final win in New Zealand for Roxburgh-based Invercargill shearer Samuels, who had been only an occasional competition shearer on the annual circuits of 55-60 competitions in New Zealand each season until steeping up the action in 2019.
He has since had a series of wins in mainly national title events, including the PGG Wrightson / Vetmed National Shearing Circuit and New Zealand Shears Circuit double in 2021 and the New Zealand Shears open final in Te Kuiti last April.
Stratford did have winning success in the New Zealand Winter Comb Championship final on the opening day of the South Canterbury town's annual shearing and woolhandling championships on Friday, beating runner-up Jack Fagan, of Te Kuiti, by just under 1pt.
He has now won 79 open finals since his first triumph in the top grade in 1998, including 2 wins in the UK.
New Zealand drew first blood in annual home and away Trans-Tasman shearing when Canterbury shearers Tony Dobbs, of Fairlie, and Allen Gemmell, of Loburn, beat Australian pair Johnathon Dalla and Andrew Murray in a blade shearing test ahead of the Australian leg of the series, to be contested on October 20 at Jamestown, South Australia, along with a machine shearing and woolhandling tests.
There was a surprise result in the opening open blade-shearing final of the season when Tim Hogg, of Timaru, claimed the Waimate title by beating Dobbs, Dalla and Gemmell in a 6-man final of 6 sheep each.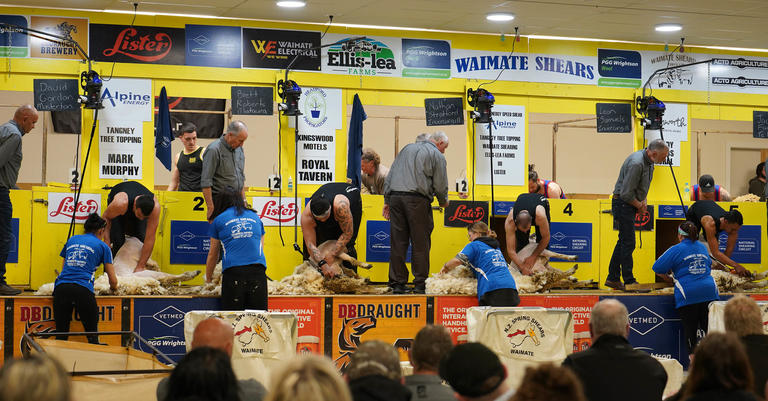 Joel Henare, from Gisborne, won the Waimate Shears open woolhandling title for 7th time, a 3rd time in a row, taking his total of individual open final wins, including two world titles, to 133 since his first in 2016.
Senior shearing finals provided two first time senior winners, with Matt Taylor, of Kurow, winning the Winter Comb senior final on Friday and Kapua Brown, of Taumarunui, the Waimate senior shearing final on Saturday.
In other shearing finals, Emma Martin, of Gore, carried on from her succession of Junior successes last summer to win the Waimate intermediate shearing final, the junior title was won by Jet Schimanski, of Gore, and the novice event was won by Jacob Booth, of Waimate.
The Waimate Shears senior woolhandling final was won by Charis Morrell, of Alexandra, and the junior title by Makayla Neil, of Piopio.
New Zealand 2023 World Championships representative Candy Hiri, of Mataura, won the South Island Circuit open woolhandling final, which stemmed from a series of events over the last 12 months, and the senior circuit final was won by Saska Tuhakaraina, of Gore.
The open shearing also incorporated the second round of the 2023-2024 PGG Wrightson / Vetmed National Shearing Circuit, from which the top 12 shearers, based on points for placings at 5 competitions throughout the season, qualify for the finals at the Golden Shears in Masterton in March.
The shears attracted about 130 competitors, including 77 in machine-shearing events and 43 woolhandlers.
Many of the competitors now head for work in the North Island, where the North's first event of the season, the Gisborne shearing and woolhandling championships at the Poverty Bay A&P Show, will be held next Saturday, when South Island competition continues at the Ellesmere A&P at Leeston.      
Results from the Waimate Spring Shears shearing and woolhandling championships at Waimate on Friday-Saturday, October 6-7, 2023:
International:
Trans-Tasman Blades Shearing (4 sheep): 
New Zealand (Tony Dobbs 13min 22.38sec, 48.869pts; Allen Gemmell 14min 56.9sec, 56.845pts) 105.714pts, 
beat Australia (Johnathon Dalla 13min 14.9sec, 49.745pts; Andrew Murray 16min 45.05sec, 67.2525pts) 116.9987pts. 
Waimate Shears Shearing:
Open final (16 sheep): 
1. Leon Samuels (Invercargill) 15min 26.72sec, 52.0235pts
2. Nathan Stratford (Invercargill) 16min 1.86sec, 52.343pts
3. Toa Henderson (Kaiwaka) 15min 23.51sec, 52.988pts
4. Brett Roberts (Mataura) 15min 39.16sec, 53.0205pts
5. David Gordon (Masterton) 15min 56.47sec, 53.261pts
6. Jack Fagan (Te Kuiti) 16min 14.07sec, 61.891pts
Open Plate (10 sheep): 
1. Corey Palmer (Dipton) 10min 54.06sec, 38.603pts
2. Floyde Neil (Taumarunui/Boyup Brook, West Australia) 10min 4.17sec, 40.2085pts 
3. Corey Barrowcliff (Piopio) 10min 40.57sec, 41.0285pts
4. Taare Edwards (Rakaia) 12min 716sec, 41.658pts
5. Hori Rata (Ongarue) 10min 37.86sec, 42.893pts
6. Josef Winders (Invercargill) 10min 26.1sec, 44.205pts
Senior final (8 sheep): 
1. Kapua Brown (Taumarunui) 9min  35.97sec, 39.1035pts
2. Aidan Tarrant (Taumarunui) 10min 49.82sec, 39.741pts
3. John Cherrington (Ngaruawahia/Oamaru) 10min 51.97sec, 40.0985pts
4. Alice Watson (Seddon) 11min 13.22sec, 40.411pts
5. Reuben King (Kaiapoi) 10min 50.65sec, 40.9075pts
6. Blake Crooks (Rangiora) 10min 14.57sec, 42.8535pts
Intermediate final (5 sheep): 
1. Emma Martin (Gore) 9min 2.07sec, 33.3035pts
2. Cody Waihape (Mataura) 7min 46.34sec, 33.517pts
3. Hautapu Mikaere (Te Awamutu) 7min 35.11sec, 35.5555pts
4. Lydia Thomson (Rangiora) 9min 23.81sec, 36.5905pts
5. Tim Dickson (Feilding) 7min 40.92sec, 37.046pts
6. Marius Klopper (Bloemfontein, South Africa/Winton NZ) 8min 36.77sec, 40.2385pts
Junior final (3 sheep): 
1. Jet Schimanski (Gore) 7min 5.64sec, 36.282pts
2. Reuben Wilkinson (Wyndham) 9min 6.5sec, 36.6583pts
3. Connor Wilkinson (Wyndham) 8min 24.24sec, 37.8787pts
4. Leevi Lex Wilson (Wyndham) 8min 14.59sec, 40.3962pts
5. Donnie Stringer (Ranfurly) 8min 49.11sec, 40.7888pts
6. Mac McTavish (Lawrence) 8min 17.47sec, 43.2068pts
Novice (1 sheep): 
1. Jacob Booth (Waimate) 4min 8.58sec, 23.429pts
2. Kane Miles (Christchurch) 2min 53.3sec, 23.665pts
3. Manawa Hunt (Oamaru) 2min 48.38sec, 46.419pts
Blades final (6 sheep): 
1. Tim Hogg (Timaru) 18min 3.41sec, 66.3372pts
2. Tony Dobbs (Fairlie) 19min 20.51sec, 68.0255pts
3. Johnathon Dalla (Warooka, South Australia) 20min 21.79sec, 68.9228pts
4. Allen Gemmell (Loburn) 18min 21.07sec, 78.5535pts
5. Phil Oldfield (Geraldine) 23min 32.09sec, 81.2712pts
6. Andrew Murray (Wellington, NSW) 24min 59.03sec, 88.4515pts
New Zealand Winter Comb Shearing Championships:
Open final (10 sheep): 
1. Nathan Stratford (Invercargill) 20min 47.03sec, 80.2525pts
2. Jack Fagan (Te Kuiti) 19min 29.27sec, 81.1635pts
3. Brett Roberts (Mataura) 21min 9.05sec, 83.6525pts
4. Chris Vickers (Palmerston) 19min 32sec, 89.6pts
5. Paerata Abraham (Masterton) 19min 47.29sec, 90.7645pts
6. Colin Dennison (Kurow) 22min 14.25sec, 93.1125pts
Senior final (5 sheep): 
1. Matt Taylor (Kurow) 12min 52.43sec, 68.6215pts
2. Aiden Tarrant (Taumarunui) 16min 57.44sec, 75.872pts
3. Taelor Tarrant (Taumarunui) 15min 5.73sec, 76.8865pts
4. Tawhaarangi Taylor (Murupara) 15min 54.06sec, 77.303pts
5. Andrew Booth (Waimate) 16min 28.82sec, 82.841pts
6. Ruby Stone (Waimate) 16min 59.31sec, 88.9655pts
Woolhandling:
Open final: 
1. Joel Henare (Gisborne) 47.262pts
2. Tia Potae (Harataunga Kennedy Bay/Milton) 86.994pts
3. Amy Ferguson (Invercargill) 94.78pts
4. Cushla Abraham (Masterton) 167.124pts
Senior final: 
1. Charis Morrell (Alexandra) 112.692pts
2. Tre Ratana Sciascia (Taihape) 116.676pts
3. Krome Elers (Mataura) 140.368pts
4. Shakira Matenga (Dunedin) 177.464pts
Junior final: 
1. Makayla Neil (Piopio) 143.56pts
2. Sarah Lewis (Gisborne) 146.47pts
3. Lucy Elers (Mataura) 164.16pts
4. Tess Kelly (Rakaia) 212.27pts
South Island Woolhandling Circuit:
Open final: 
1. Candy Hiri (Mataura) 108.918pts
2. Cushla Abraham (Masterton) 111.518pts
3. Keryn Herbert (Te Kuiti) 133.5pts
4. Amy Ferguson (Invercargill) 135.25pts
Senior final: 
1. Saska Tuhakaraina (Gore) 111.776pts
2. Krome Elers (Mataura) 134.686pts
3. Maiden Elers (Mataura) 144.75pts
4. Charlotte Stuart (Omarama) 154.44pts    
Back to News