Video or image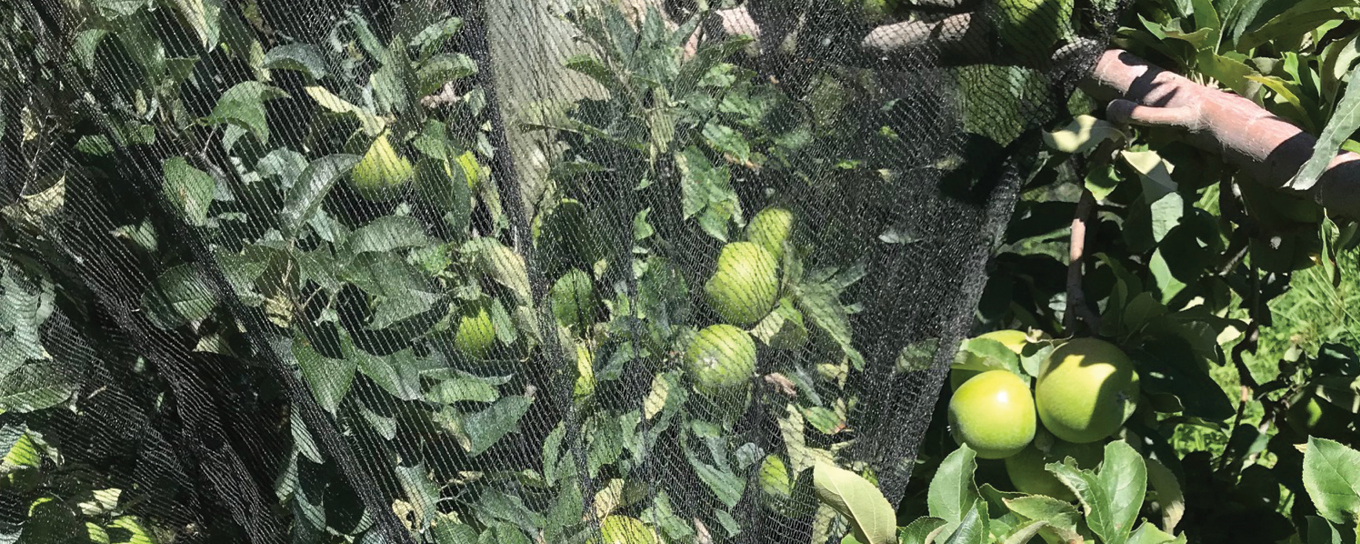 Drape Net trials prove benefits
With three years of use in local apple and pear orchards throughout New Zealand's major growing regions, Drape Net® is showing benefits to growers' returns.
The black Drape Net has a 25% shading factor due to the black impregnated polymer pigment, reducing the impact of sunlight on the apple skin, says industry consultant Bruce Gemmell. Bruce has been working with Fruitfed Supplies Hastings senior representatives Gary Speers and Richard Griffiths who have now trialled black Drape Net in numerous Hawke's Bay Granny Smith blocks. Gary and Richard report that growers are getting increased pack-out due to reduced sunburn and fewer cosmetic defects on the Drape Net-covered blocks.
Richard says: "Being a green apple, Granny Smiths have always had an inherent problem of attracting sunburn or a red blush, which reduces export pack-outs. With growers either reinvigorating or planting new Granny Smith blocks, the ability of Drape Net to help prevent sunburn is an important focus for this variety. As sunburn is one of the leading reject factors in all apple varieties, not only Granny Smith, we can see Drape Net's further application for this purpose." Bruce reports that, this season, some growers were getting to the stage that pickers were harvesting fruit into two different bins at picking time to speed up the process of sending the good green Granny Smiths to their packhouse.
With many existing Granny Smith trees reaching 4.5m in height due to older more vigorous rootstocks Drape Net has also had the effect of controlling shoot extension growth. In one orchard, after two years of application, trees did not need to be pruned last winter. This has led to reduced tree input costs and easier Drape Net application.
Drape Net application contractor Jamie Gemmell says the reduced extension growth following two years of Drape Net application on tall Granny Smith trees made it far easier to put the nets on. With three years of Drape Net application experience, Jamie says the best way to apply netting properly over trees is with the specially-developed NetWizz applicator. "Drape Net's NetWizz applicator gives the correct cover and net tension which ensures spray coverage and fruit rub do not become issues."
Further trial work with Drape Net and other tree growing systems will continue in the coming season, specifically in new apple plantings. Internationally, Drape Net is sending major shipments to North American and South African growers who have seen the benefits gained by New Zealand and Australian growers. Drape Net was originally developed over 15 years ago by an Australian orchard trying to negate the devastating effects of hail. It offers a cost effective way of protecting tree crops from hail, birds, sunburn, wind damage and specific insects, and also disrupts codling moth flight and reduces under-tree evapotranspiration. For further information, please contact your local Fruitfed Supplies Technical Horticultural Representative.
Back to News