Video or image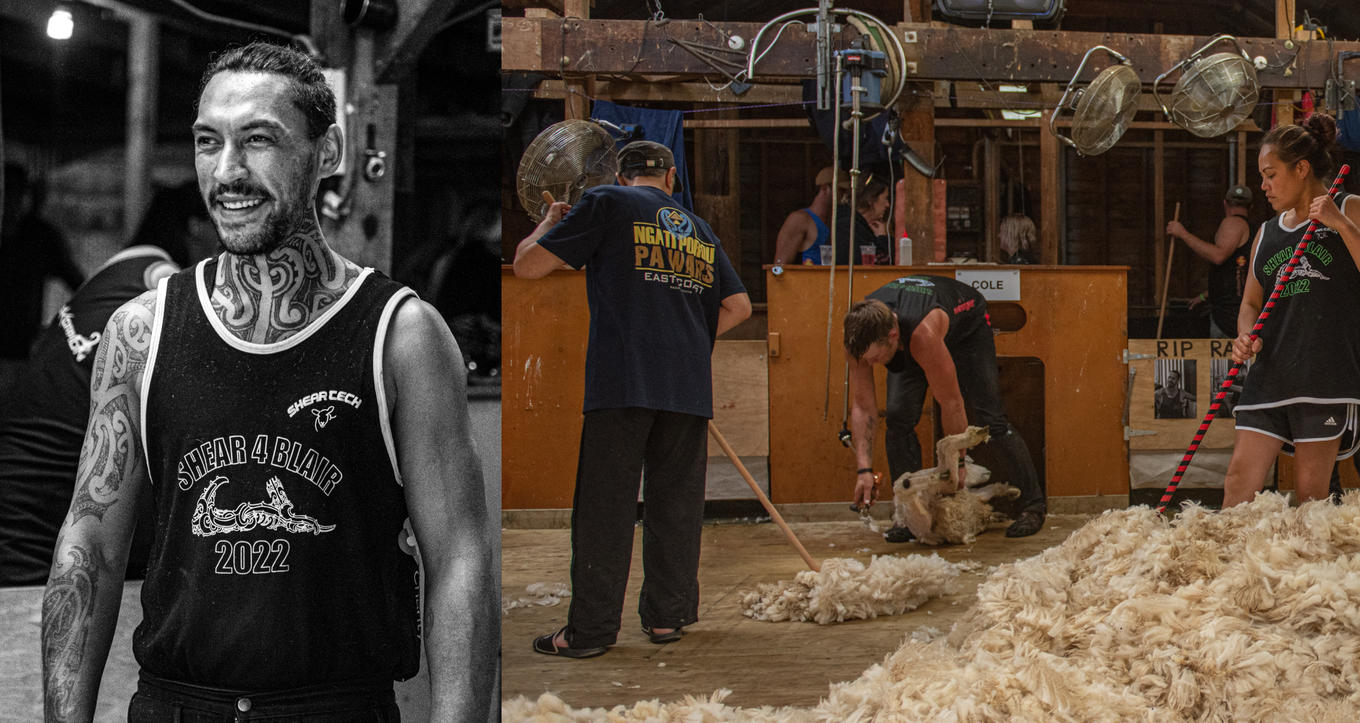 Wool Street Journal: Huge Waitangi weekend effort raises over $200,000 for charity hospital
On two occasions, Otago-based PGG Wrightson Wool representative Jared Manihera has found a meaningful purpose to celebrate Waitangi weekend with friends and the wider rural community. During 2020's February long weekend, he organised a 24-hour shear-a-thon that raised over $50,000 for charity. In the first weekend of this February, he backed that up with another edition, and this time the event raised over $200,000 for the Southland Charity Hospital.
Although Jared spent months setting it up, then kept the event running smoothly through the weekend, he is keen to acknowledge that the real stars of this outstanding result were Eru Weeds, Cole Wells, Brayden Clifford and David Gower, who were the core shearers at the Shear 4 Blair event, held at the woolshed of Nelson and Fiona Hancox at Wohelo Station, Moa Flat in West Otago.
"What those boys did was incredible. They sheared 12 two hour runs back to back, with traditional length breaks between each run. Due to poor weather making the sheep wet, we had to postpone the event for a day. Starting at 6 am on Sunday, those four kept going until 2 pm on Monday, by which time we had clipped more than 10,000 mainly ewe lambs.
"That is equivalent to three full days of shearing back to back. Everyone was pushing through the physical and mental barriers: they were all in considerable pain towards the end, though they kept going regardless. When a friend or family member has cancer, you feel helpless to support them: this event enabled us to feel we have somehow helped loved ones and friends who have passed away from this disease while also aiding some of us to grieve such a loss. One of the shearers dedicated the effort to a mate who had died of cancer. What someone dealing with that kind of battle has to put up with is what motivated us to make this happen.
"For the shearers, the early hours of the morning was when they most felt the physical and mental pain of their extraordinary endeavours. That is when they reached their limits, at a time when they would usually be resting or asleep. Watching the four of them, alongside an army of volunteers, putting in such a sustained effort for an awesome community cause was absolutely inspiring," says Jared.
Fund-raising out of the Shear 4 Blair weekend included the shearers' wages, sponsorships, donated products offered for auction or raffle and several substantial cash donations. Individual tallies from the four main shearers were: Eru Weeds 1891, David Gower 1607, Brayden Clifford 1543, and Cole Wells 1435, meaning $32,380 was raised in total from the four of them. Including the tallies contributed by several casual shearers who went on the handpiece for a run or two, $50,420 was raised just from the shearing.
Reliant on fundraising from the community, the Southland Charity Hospital Trust was established in 2019 following Southland man Blair Vining's highly-publicised battle with terminal bowel cancer. Blair's widow Melissa, who has led the hospital initiative, attended the shear-a-thon. Major sponsors included PGG Wrightson, Vetmed and Hokonui Shearing Wear, alongside many others who generously did what they could to support the cause. Proceeds will be used to purchase medical equipment and major assets ahead of the Southland Charity Hospital's opening later this year. Once completed the hospital will provide free services to those in the Southern District Health Board area who are unable to access public or private health care.
"Blair Vining died because the system failed him. We chose this charity with the intention that the funds we have raised will help save the next Blair," says Jared.
Back to News