Video or image
Wool News: Northland couple with novel use for Romney wool
A Northland couple on a farm that has been in the family since the early 1870s have found an innovative new use for the wool grown by their Romney flock.
Sarah Hewlett is the sixth generation of her family on 230 hectare Hewlett Point Farm, on the southern shore of Whangarei Harbour at Mata. As she explains, the acoustic properties of wool are not well recognised, which she and husband Chris Coffey aim to change.
"I used to design clothing and have been playing around for a few years using felt. We came across a felting machine in Auckland and started thinking about wool for acoustic insulation. 
"Research showed us that acoustic effectiveness varies according to different factors such as density and design. Wool can be as effective as synthetic materials at absorbing sound, though without the micro-plastics, and with all the positive qualities of wool such as absorption of volatile organic compounds and fire resistance," she says. 
They now have a product: aesthetically attractive, natural, sustainable, zero-waste sound absorbing panels, suitable for use in homes, offices, restaurants, hotels and buildings including libraries and museums. Their next step is to commercialise it.
"We have worked with Marshall Day, an Auckland acoustic consultancy, as well as AUT, though want to buy our own machinery as at the moment we need to go to Auckland for that, which is not so easy from the farm. Once we have a machine we can do a whole lot more, and want to maximise the absorbency of the product.
"We also need to achieve certification from BRANZ to enable what we are making to be used in commercial buildings. That is expensive, though hinges around fire resistance, which is a natural quality of wool, of course," she says.  
In the meantime they entered 'The Pick,' a Northland business innovation competition, winning the rural section.
PGG Wrightson Far North wool representative Lance Paganini has a long association with Hewlett Point Farm, providing Sarah and Chris with guidance around product development for their wool acoustic insulation products, and making sure the rest of their wool gives them the best possible return.
Hewlett Point Farm runs 500 Romney ewes, currently crossing them with Poll Dorset rams for lambing, although Sarah and Chris's nine year old son Jasper is experimenting with the Beltex breed. They also have 50 breeding cows and buy in weaners to fatten approximately 100 beef cattle each year, adhering to a regenerative farm system across all their land use, with natural fertilisers and chemical free products.
Pictured below L-R: PGG Wrightson Far North wool representative Lance Paganini, Chris, Sarah and family.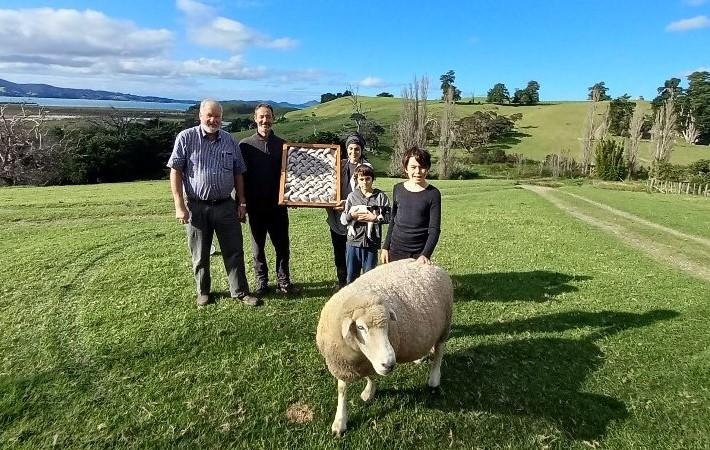 Back to News