Video or image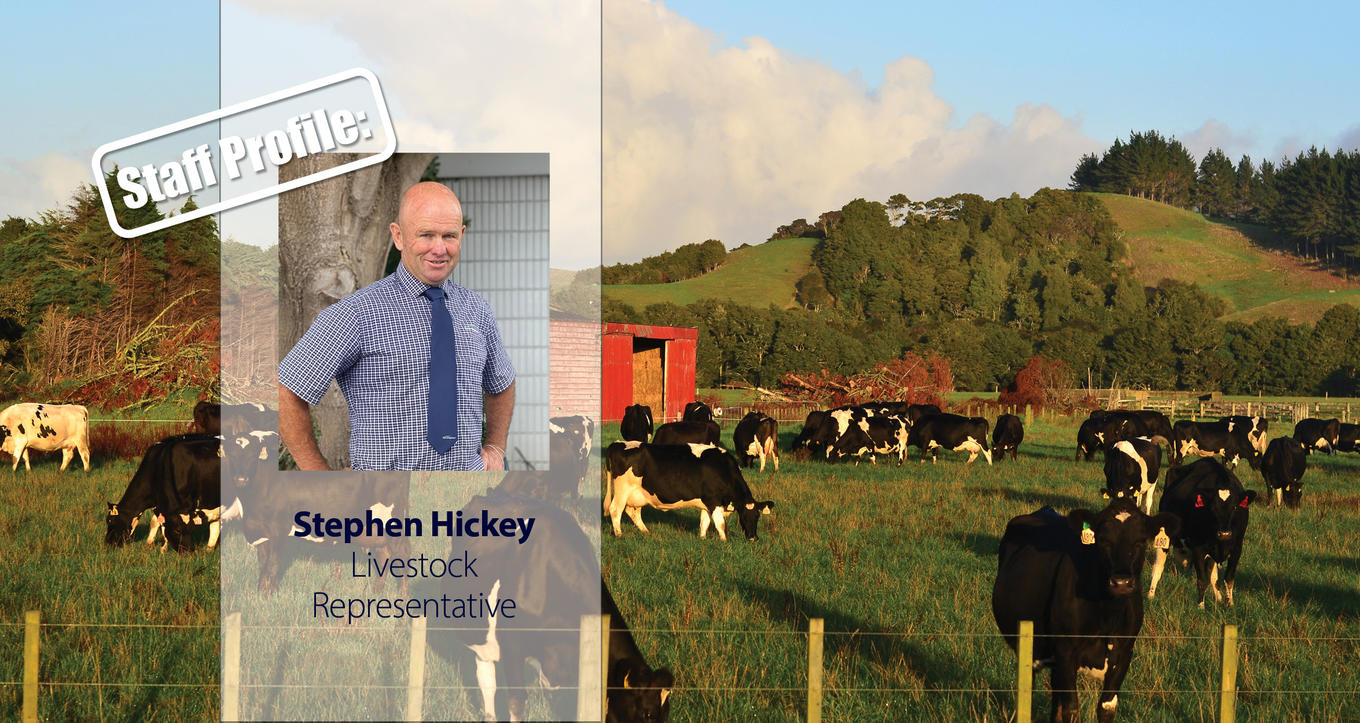 Staff profile - Stephen Hickey
Right at home in Waikato
North Waikato is home for Stephen Hickey. Not only did he grow up on his parents' 250 hectare, 650 cow Te Kauwhata dairy farm, he sharemilked the property for them for 25 years.
Then he became a livestock representative for PGG Wrightson in 2017, initially for two and a half years in South Auckland, then a three and a half year stint in Gisborne, before coming back to Waikato at the end of January 2022.
He's enjoying the variety.
"I was delighted to go to the East Coast and be amongst New Zealand's Angus breeding capital, and the opportunity to work with some of the biggest farming operations was a great experience," he says.
Stephen reckons honesty is the key to success as a livestock representative.
"Many elements of this job are out of our control, such as climatic conditions and fluctuating markets. However, we always do our best to adapt and provide clients with the options that will give them the best outcomes.
"Honesty and a good work ethic will win the respect of farmers, and enable you to form good relationships. Knowing that you've tried to get the best possible outcome for your clients: that's what you focus on at the end of the day."
At the beginning of the day, teamwork helps Stephen get out of bed in the morning.
"I love having positive people around me. As a livestock representative, I am a part of the team of each of my clients. Then, within PGG Wrightson, that's another team. We are nationwide, and I spend plenty of time talking to a lot of reps, in person and on the phone, creating relationships with them as well, and it's not always all about work, rapport and goodwill among your colleagues brings immense value," he says.
His most frequent advice to farmers is to understand where they are going and why.
"You need a good game plan: set sensible goals, know what you want, and stick to those guidelines as best you can," he says.
Since returning to Waikato in the summer, Stephen has noticed the changes that reach into even the country's most prosperous farming region.
"My biggest anxiety is the amount of good farmland going to forestry. Although dairy is on a positive vibe at the moment, which is good news for Waikato, the number of sheep and beef farms going to forestry, or subdividing to meet the demand for urban spread, is a concern. Farmers will adapt, they always do, and good dairy beef stock will become more popular, meeting the shortfall of stock that would previously come from those breeding properties now growing trees. However, the trend towards forestry will put sheep and beef farmers, and agriculture more generally, under pressure," he says.
Outside work, Stephen and wife Kerry enjoy following sport, anything outdoors, and spending time with their three adult children, and Stephen's hands-on involvement with farming these days is the help he gives his uncle to run a North Waikato beef operation.
Back to News