Video or image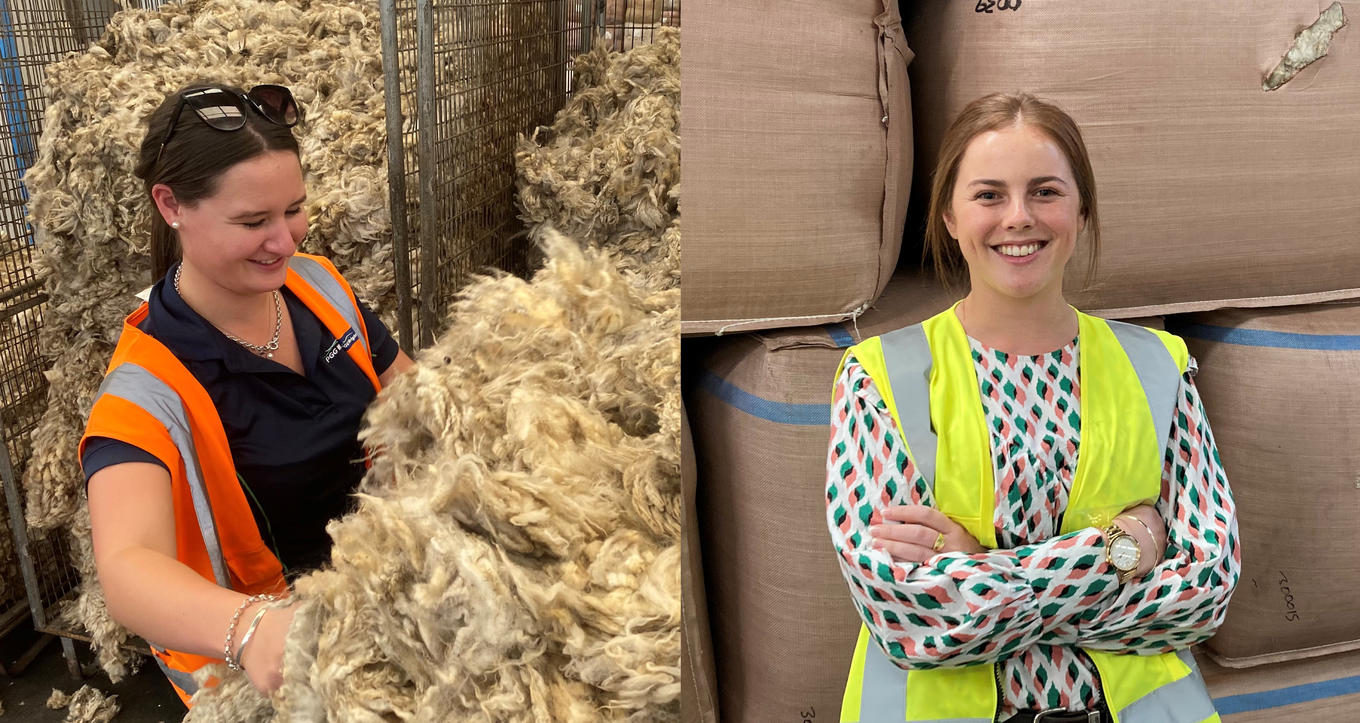 Wool Street Journal: Opportunity knocks for two new wool trainees
PGG Wrightson appointed two new wool trainees this month, Tamzin Lee, based in Napier and Hine Mullany in Christchurch. Selected from 47 applications for the positions, both have a long-standing interest in agriculture and a strong commitment to wool.
Although Tamzin grew up in Napier, she spent as much time as possible on family and friends' farms in Waipukurau and Dannevirke: out in the yards, taking the motorbikes out, riding horses and feeding lambs. Those childhood experiences formed her desire for a career in agriculture.
"After finishing school in 2016, I went to Wellington to study law and politics, just long enough to work out that city life isn't for me. I moved back to Hawke's Bay, worked for a while for my parents' plumbing business, began studying Agricultural Commerce at Massey, then took on my first role at FruitFed supplies, in Hastings, as a customer service representative. Although FruitFed was a great step into the industry, I jumped at it when a role with PGG Wrightson Rural Supplies in Darfield came up in late 2020. It was a perfect introduction to the business's rural side and allowed me to broaden my knowledge.
"Wool has always been a passion, so I was even more thrilled to take this next step as a wool trainee, particularly coming home to the Hawke's Bay lifestyle: I'm a keen surfer and love my fishing and hunting. 
"I'm looking foward to learning as much as I can about wool and seeing where this new role takes me," says Tamzin.
While Hine, who recently graduated from Lincoln University with a Bachelor of Agriculture, didn't grow up on a farm, she has also always had a passion for agriculture. Her long term aim has been a role in either livestock or wool, and she worked on different Canterbury dairy farms throughout her time as a Lincoln student, as she explains.
"Although I absolutely loved everything about dairy farming, I had a real interest in wool. In my final year at Lincoln, I spent as much time as I could focusing on wool, which only made me love it even more.
"I spent my first year out of university working for an agricultural machinery company, although I couldn't kick the urge of wanting to work with wool, so was delighted to be offered this position," she says.
Hine is drawn to the community around agriculture and the industry's history.
"I am a people person and love a good old chat, whether it's work-related or just 'how are you going?' I also love a cup of tea, which goes hand in hand with a chat, really," says Hine.
When not at work, Hine is most likely to be with family or friends, naming Central Otago as her 'happy place,' mainly when that includes a hunting trip with her boyfriend.
Both trainees will gain experience across all PGG Wrightson Wool's operations and will attend the company's academy, a 12-month programme with membership from staff members with outstanding potential across the whole company.
North Island Wool Manager Allan Jones supervises Tamzin while PGG Wrightson Wool Procurement Manager Rob Cochrane guides Hine through their traineeships. Rob said the company recognised the need to bring younger people into the industry.
"We received numerous exceptional applications for these positions and were able to select the two candidates that we think are most capable of turning a passion for wool into value for the industry and rewarding careers for themselves. Even in the short time, they have been in our offices, the fresh energy they bring has lifted their new colleagues. In return, we are excited to be able to pass on our knowledge and experience of wool, mentor them as they start their careers in our industry, and see how well they will progress wherever this takes them in the coming months and years," says Rob.
Back to News