Video or image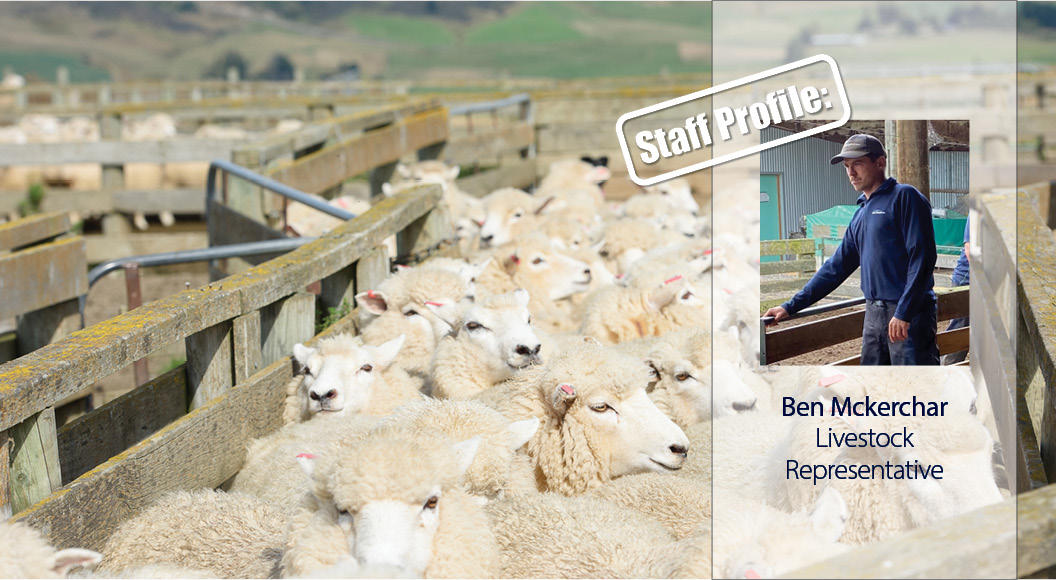 Over The Farm Gate: Staff profile – Ben McKerchar
Setting your own style and being confident in yourself
Ben McKerchar grew up on a Winton sheep and beef farm, while his father Ross was a well-known Southland livestock agent. From as far back as he can remember, Ben was constantly in and around the saleyards, developing a strong interest in the industry, later on picking up part time livestock jobs after school and during the holidays. However, being a keen and talented sportsman, after Ben finished at Southland Boys High School in 2011, he went to Dunedin for four years to study at the Otago University School of Physical Education.
"Living in the city I gained a greater appreciation of where I had come from and what that meant, particularly spending university holidays working in agriculture. I realised that was the path I really wanted to go down," he says.
After graduating Ben was able to step onto that path as a PGG Wrightson trainee, becoming a livestock representative in 2017, then taking on the genetics auctioneering role for Otago and Southland in November 2021.
"I was fortunate that since Dad was a stockie and an auctioneer, those roles were always in the background, and the relevant skills came naturally. For any newbie livestock rep, particularly if you are younger, the biggest challenge is setting your own style and being confident. Establishing yourself in your area with your clients and alongside the rest of the industry is a big one for all young agents. Building rapport with clients takes time, though is highly rewarding.
"I was lucky to start as a trainee, then was chucked in the deep end after a couple of months at the Lorneville saleyards, when I was encouraged to step up as auctioneer for various sheep and cattle sales," says Ben.
Whether by nature or nurture, certainly supplemented by hard work, those experiences paid off and in 2018 Ben won both the young auctioneer of the year title and the New Zealand Stock and Station Agent's Association trophy.
Working with people is what he most enjoys about livestock.
"With our clients and the others in our team, I love the environment and the camaraderie around the saleyards. We have an excellent team in Southland, and there is always plenty of variety: no two weeks are the same."
Away from the saleyard Ben is frequently still on the sports field, either as a halfback or first five for his home club Midlands in the Southland premier rugby club competition, or as a top order batsman for the Marist Cricket Club in the Southland premiers in summer.
"For footy this is the first in several seasons that we have made premiers. We're aiming to compete week in week out, develop our younger players and hopefully upset some of the big boys.
"I also manage the Southland U19 boys rugby team, so I'm looking forward to getting stuck in with a good bunch of young men who are keen to put Otago and Canterbury to the sword," says Ben.
He's also worn the silver fern as a member of the New Zealand Men's U21 Touch team in 2012.
Back to News