Video or image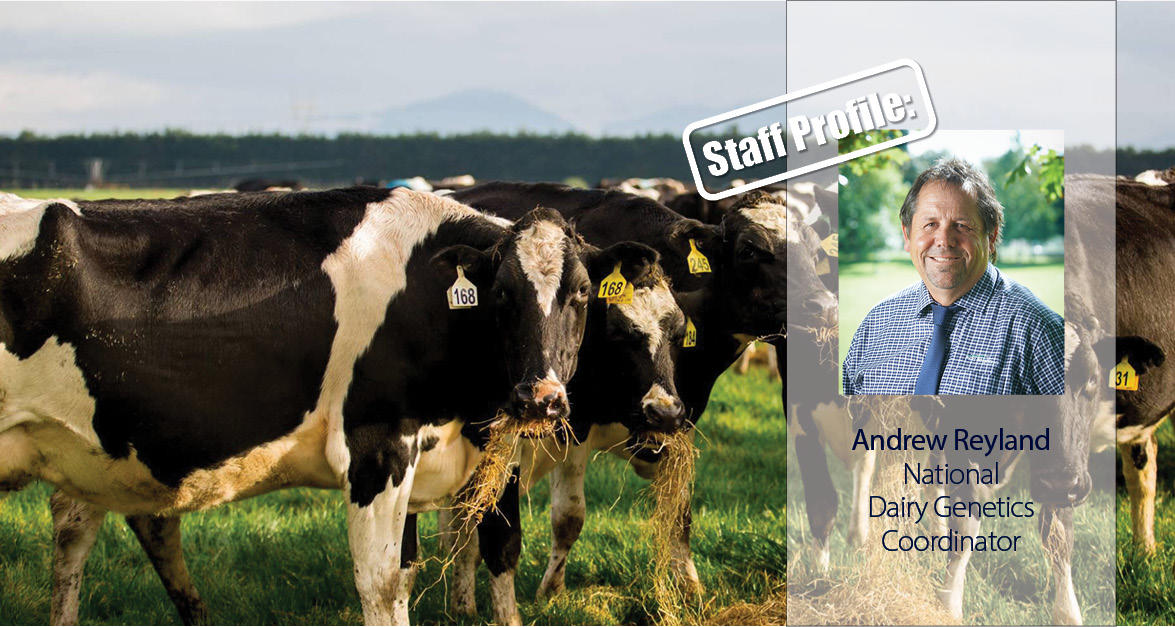 Over The Farm Gate: Staff profile – Andrew Reyland
Sometimes it's more than buying or selling livestock
PGG Wrightson National Dairy Genetics Co-Ordinator Andrew Reyland has always been an animal person. As a third-generation dairy farmer, which he did before shifting to a livestock role, he was in his natural element.
Andrew says his father, Basil, was and remains an excellent stockman.
"Growing up was mainly in Waikato, then Bay of Plenty. Dad milked and showed Holsteins. He taught me the basics, and much more. I spent 16 years dairy farming and milked a lot of cows, including a 500 cow sharemilking job at Tirau for Longview Trust and managing a 2000 cow conversion at Mercer," he says.
Since the turn of the century, he has been a livestock representative in Waikato, initially for another company, joining PGG Wrightson in 2004. He acknowledges former PGG Wrightson Dairy Livestock Manager Brian Robinson as a great mentor, someone Andrew owes a debt of gratitude to for helping him in his career.
In the livestock role, Andrew enjoys nothing more than matching quality herds or individual stock to buyers.
"That's especially true with younger people stepping onto the sharemilking ladder: helping clients improve herd genetics, recommending a sire I've seen performing elsewhere. Knowing you've helped people improve their productivity and business, and the sense of appreciation that comes with that, is a great motivator for me.
"Sometimes you also have to take an extra step. A good percentage of my clients have become friends. At times I've been at someone's place, spending a couple of hours more than I'd planned, listening to them, whether that be drought, personal or financial problems. I've regularly come away from those sessions, called one of their other mates, and said 'Go and see them. They could do with a friendly face.'
"I always try to give clients the time they deserve, whether that is strictly to discuss the needs of their business, or taking a wider focus. Sometimes it's more than buying or selling livestock. I've often found myself telling clients to listen to their gut, and talk to people they respect about anything that matters, whether that is farming or broader life issues," he says.
Andrew finds clients stopping farming is hard.
"I find it difficult to see good farmers exit the industry for reasons other than retirement. Whether it be struggles with increasing compliance, staffing issues, global volatility: any of the things that impact the industry really. It is a shame when people find those challenges too much to handle and decide to take their skills and passion elsewhere."
At the end of last year Andrew shifted from serving as a Waikato Dairy and Sheep and Beef Rep to his current role.
"I travel throughout New Zealand, helping the local reps and supporting them in the marketing of elite genetics, where we have clients seeking to sell studstock or high breeding value animals. In the short time since I took on the role, I've been to Southland, Nelson, Northland and Taranaki, and will visit most other dairy districts in the next few months.
"Organising, marketing and running sales throughout New Zealand to a high standard, supported by our excellent team in order to achieve the optimal result for our clients, is my focus in the new role.
"I've also retained approximately 30 of the Waikato clients I worked for in my previous role."
Staffing is an important issue he sees many dairy farmers facing.
"Attracting, employing and retaining good staff is difficult, which covid has particularly demonstrated. Ideally, the record high returns and forecasts at present will give employers confidence to go out and source good staff. Good people can be poached, particularly when there is a lack of staff around. Plenty of farmers are struggling with staffing. Although it is difficult, I'd like to think they can use the present high payout to better address this issue," he says.
Weekends find Andrew helping wife Lynne feed out on their 64-hectare drystock farm at Matangi on the outskirts of Hamilton, where they have 300 cattle, and he also manages a few hunting trips each year, either in Manawatu or the Ruahines. When covid is finally over, he's looking forward to visiting Western Australia, where his three children all work in the mining industry, and catching up with his seven grandchildren.
Back to News