Video or image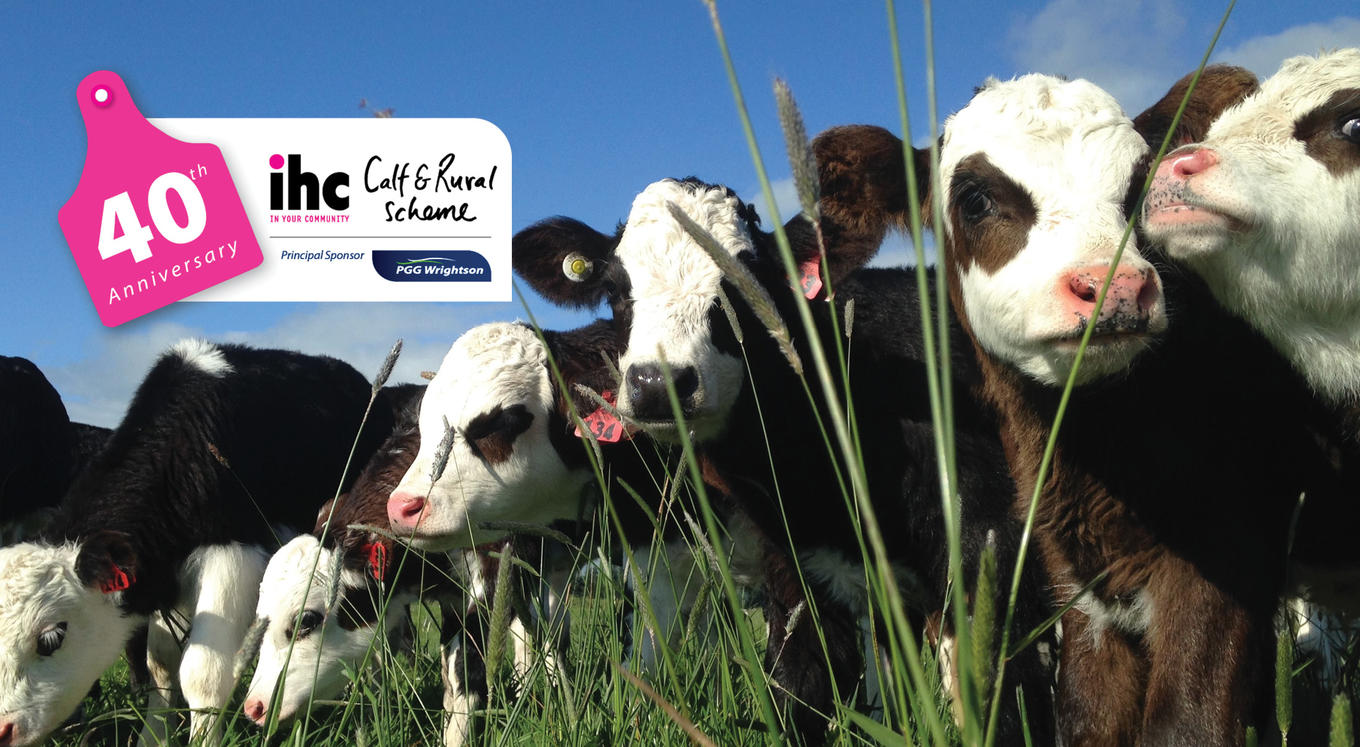 Over The Farm Gate: IHC Calf and Rural Scheme and principal sponsor PGG Wrightson mark big anniversary
One of New Zealand's most enduring charitable relationships – 40 years, $40 million and still going strong
This year marks the fortieth anniversary of the IHC Calf and Rural Scheme, which has raised some $40 million in that time.
PGG Wrightson Livestock has been a principal sponsor since the beginning, working alongside the IHC to encourage farmers to donate or pledge stock for offer at auction, with proceeds going to support people living with intellectual disability and their families. Virtual donations are also part of the scheme.
PGG Wrightson Livestock General Manager Peter Newbold says the company gains great benefit from its relationship with the IHC Calf and Rural Scheme.
"We are proud and humble of our long association with this fantastic cause. IHC and PGG Wrightson working together is one of New Zealand's most enduring charitable relationships.
"From its origins, the scheme has always been about rural people doing their practical best to support a community need. One big advantage is that farmers who give to the scheme can see the impact of their donations put to good use in their local area. PGG Wrightson has been there since the beginning, helping people by making the most of the many connections our brand has to the rural sector throughout the country.
"Congratulations to IHC on the scheme and the great work it does," he says.
IHC's National Fundraising Manager Greg Millar says the charity's long association with the company has helped the scheme immensely.
"The IHC Calf and Rural Scheme is incredibly grateful for the generous support of PGG Wrightson Livestock, right from the very beginning 40 years ago.
"That support goes way beyond a straight sponsorship: from the beginning PGG Wrightson has helped us understand dairy farmers and livestock, nationally and at a local level, particularly when selling calves each year through local saleyards.
"That expert support was so valuable when the scheme had to navigate Mycoplasma Bovis, helping us survive the impact of the disease, and enabling the scheme to return to where we were before that crisis year with minimum disruption," says Greg.
IHC also acknowledges the many farmers who have supported the scheme.
"Some dairy farmers have been giving from the beginning and some have given through generations of farming.
"PGG Wrightson plays a central part in the history and story of the IHC Calf and Rural Scheme. This is a story of community impact on rural people with intellectual disabilities and their families. Each individual farmer, facilitated by the support of PGG Wrightson, has made a real difference in the lives and futures of rural people with intellectual disabilities," says Greg. 
Taranaki farmer Norm Cashmore had the original idea behind the scheme in 1984 when he offered a pair of gumboots to every farmer donating a calf to the local branch of IHC.
He organised canvassers to visit other farmers and sign them up to donate a calf. Then he persuaded local livestock agents to auction the calves for free, and transport companies to carry them at no cost.
Initially, stock agents Dalgety was the company involved with the sales and logistics that make the scheme work.
After company mergers, PGG Wrightson took over as sponsor. PGG Wrightson Livestock works with transport companies to coordinate pickups and to sort the animals into saleable lots for regional auctions throughout the country, with the company's auctioneers urging prospective buyers to support the bidding at each auction.
Proceeds raised go toward IHC activities in local areas. IHC has more than 30 community associations throughout the country, supporting local initiatives to meet the needs of people with intellectual disabilities:
Running online sessions to connect people and help them learn something new;
Assisting people to meet up through face-to-face and online friendship programmes.
A library responding to information needs, providing a friendly ear all over the country;
Employing family/whanau liaison staff in several local communities;
Supporting online forums and a wide range of community events; and
Advocating for a good life for all.
Back to News