Video or image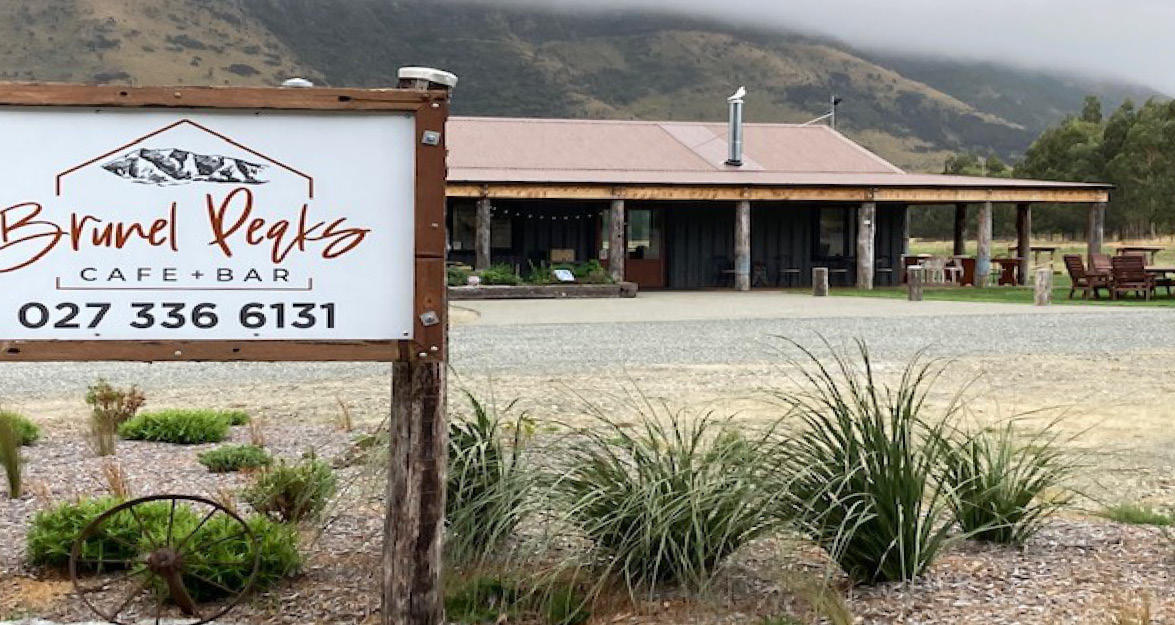 Bringing a 60-year-old vision to life in the Takitimu foothills.
Gray and Valmai Robertson bought Blackmount Station, 65 kilometres south of Te Anau, in 1963. As they settled in, Gray would regularly suggest to Valmai that their location, on the turn-off to Lake Monowai in the foothills of the Takitimu Mountains, was the perfect spot for tea rooms or a cafeteria selling tea and scones to passing motorists. Nearly six decades later, the farm is now called Brunel Peaks, farmed by Gray and Valmai's son Neil, with his wife Donna and son Greg, and the family has finally turned Gray's vision into reality.
"Around two and a half years ago, we stopped talking about it. Another local couple, Jude and Neil Nicolson, returned from working overseas to live in Monowai. Jude is an experienced and successful chef. We realised that we had the site and the concept from talking to them, so we formed a partnership between the Robertson and Nicolson families and put together a team to make it happen," says Neil. 
With most of the planning and preparation finished during Covid, Brunel Peaks Café and Bar had a few stops and starts before finally opening in March. 
The café was constructed from five shipping containers welded together. It is surrounded on three sides by a verandah supported by power poles recycled from the original transmission line that linked Monowai to Te Anau, which ran through the farm and was replaced a few years ago. Macrocarpa milled off the farm was also used for the deck and beams, giving the building an authentic rustic character, entirely keeping with the majestic Western Southland landscape.
Donna, Jude and Neil Nicolson pitched in painting the new café, including sanding and priming the steel to ensure it withstands the Western Southland weather, while Greg made the bar leaners, whisky and wine racks using timber from the farm. Donna also contributed artwork, including a portrait of Isambard Kingdom Brunel, the 19th century English civil engineer whose name is on the local mountains, the farm and the café.
"Although we had a few challenges with the build, not to mention the consenting process, we overcame them. Persistence is a wonderful thing," says Neil.
Committed woolgrowers from the earliest Blackmount Station days, the Robertsons have been PGG Wrightson customers since the beginning, or at least customers of Wright Stephenson, then Wrightson NMA, then PGG Wrightson, with Lawrence Paskell, their wool representative through all the mergers and since. Brunel Peaks currently sends away some 130 bales per annum from a flock of approximately 5500 Romney-Perendales. The wool theme plays out in the cafe decor, with seating upholstered from coffee bean bags made by Neil's sister Sharyn stuffed with scoured wool supplied by PGG Wrightson's export arm Bloch & Behrens.
All set and ready to go, though still short of the certificate of public use they needed to legally open, they started off doing takeaways.
"Fish and chip Fridays are a real novelty around here. Previously we had to travel 50 kilometres to Tuatapere for takeaways, so they were always cold by the time we arrived home. For me now, it's great: fish and chips 150 metres from the front door," says Neil.
They've been delighted with the local support. 
"Although serving tea and scones was my father's original dream, the focus of the café has gone further. Good food and hospitality are our aims. We are almost there to secure a compliance certificate, allowing our diners to have a drink with their meal. Tradespeople stop for a pie or a coffee, and we've had customers from Manapouri, Tuatapere, Te Anau and even people coming out from Invercargill," says Neil.
Seating up to 40, Brunel Peaks employs two permanent and two casual staff. However, depending on how busy it becomes, the cafe may need to hire additional hands: possibly even an extra dishwasher, where the two Neils fit into the picture so far. 
"I'm on the weekend shift, though they keep me in the kitchen. It's a learning curve, though you see plenty of people, which is interesting, and a great change of pace from everyday farm life," says Neil.
Although Gray was on the scene for the early part of the planning, unfortunately, he died in January 2020, so he could never enjoy tea and scones or lamb shanks and a nice glass of red from the cafe. However, when the compliance certificate is granted, Neil, Valmai and the rest of the family, along with the Nicolsons, will drink a wee whisky to toast his 60-year-old vision that they finally brought to life. 
Back to News