Video or image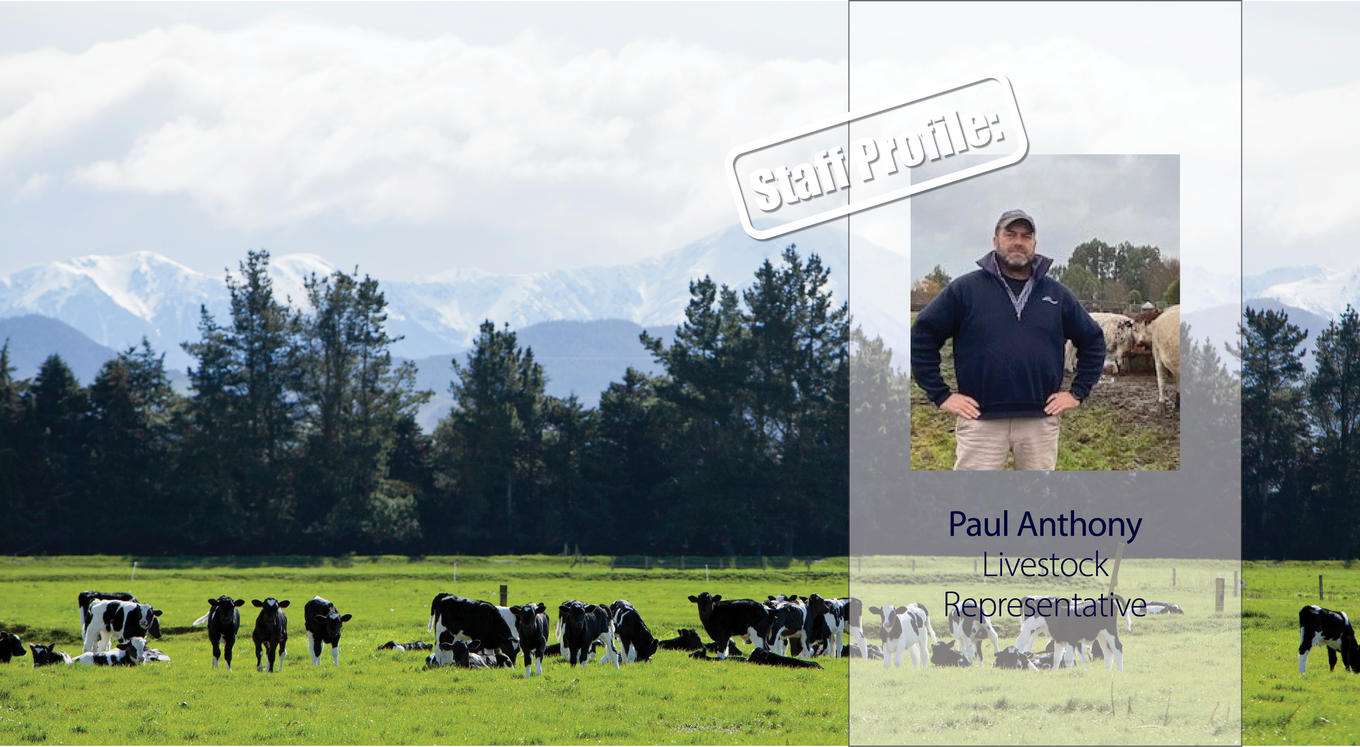 Staff profile: Paul Anthony
Taking off your business hat and becoming a friend
Before he went into livestock, Paul Anthony spent 25 years bringing machinery and cars to New Zealand from all around the world, which taught him a few lessons, and left him with a public health warning attached.
"Dealing with different people in different countries, I've been there and done that. I've had all types of scams tried on me, and I know how to see them coming a mile off. I tell people 'No tricky stuff, no silly games, it's not going work on me,'" he says.
Although it might sound like a threat, with the twinkle in Paul's eye, and the chuckle in his voice, it's more like a friendly reminder, while his well-developed BS detector is now in good use for his clients as PGG Wrightson Livestock dairy representative in Balclutha.
"Keeping the loyalty of your clients is the big challenge in this job: making sure you are walking that straight line is the only way to hold their trust. I've seen others try to bamboozle the poor old farmer with unrealistic promises. That approach never succeeds in the long run.
"You have to have a heap of integrity to do well in this game," says Paul.
Paul grew up on various South Otago and Taieri farms.
"We moved around. My folks would buy a farm, do it up, and flick it on. Initially it was all sheep and beef, then we converted a farm to dairy in 1987. It was a solid family business. I left home for awhile and rowed my own boat with the imports, then moved back with my parents when they needed another labour unit. We sold the last farm in 2012," he says.
He started with PGG Wrightson in 2014.
"There are a lot of genuine people in South Otago and it's a privilege to work with them.
"As a livestock rep, being part of my clients' businesses, seeing them succeed, being a cog in their gear box, knowing you are a useful part of what they do, that gives me the biggest buzz," he says.
Often that goes to an extra level as well.
"I've gone up the drive of plenty of farmers who have become more than clients. From eight to five you have your business hat on, then after that you become a friend.
"Regularly in this role, once you've taken care of the livestock business, you become a counsellor. If someone feels they need a yarn, and feel they can trust us, I regard that as an honour.
"When you're farming, it can be tough. I could take a phone call about anything: there is always something going on for people, which is the beauty of this role. With the drought earlier this year, there were some sad people around, struggling for feed, under a lot of pressure. You need to be the friend those farmers can talk to. In that situation, I tell them: 'You need to be happy doing what you are doing, and to remember that tomorrow is another day. No matter how shitty the day was today, the sun always comes up in the morning.' That's farming," says Paul.
Like most others, he recognises the challenges agriculture faces.
"We are all it the same boat in farming, all feeling pressure from those outside the industry trying to take an interest, who might mean well, though don't really understand our practical realities. We are all in that boat together, and we need to stay positive, because we will come through it," he says.
Outside work Paul spends time on the Milton property he shares with wife Carolyn, teenage daughters Tayla and Brooke, and their horses.
"It's not really a farm, more like a petting zoo. It serves the purpose of keeping us poor," he says.
Back to News