Video or image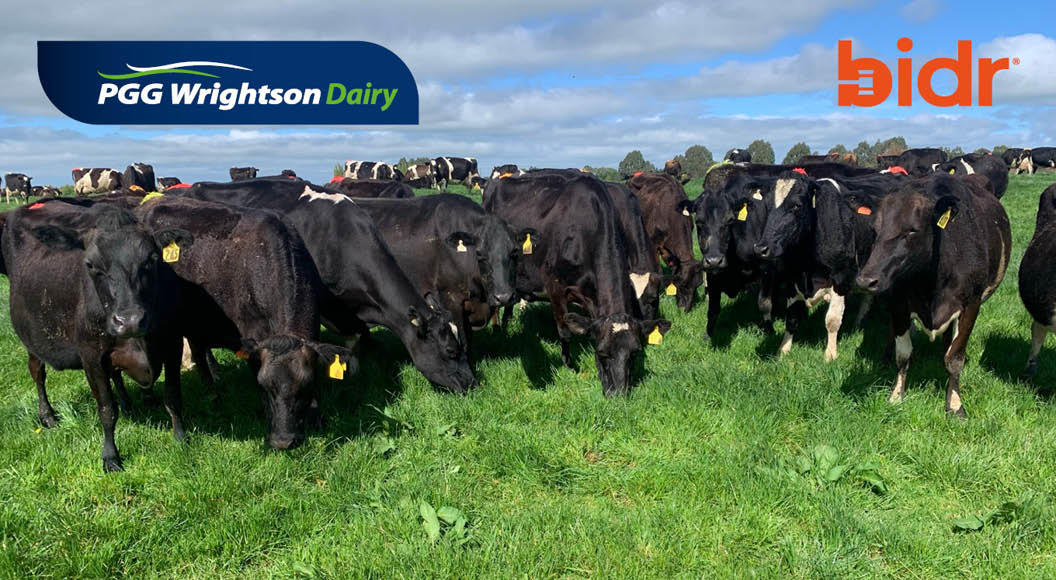 Southland herd auction breaks record as New Zealand's highest value online livestock sale
A commercial Southland dairy herd this week became New Zealand's highest value online livestock sale.
Winton farmers Simon and Liz Harnett's crossbred Friesian herd of in-calf cows sold for $2175 per head. With 360 two- to eight-year-old cows offered from a total herd of 440 in milk, the $783,000 sale was the largest value for a single lot at a New Zealand online livestock auction.
PGG Wrightson Southern South Island Dairy Livestock Manager Mark Cuttance oversaw the sale, conducted on bidr, New Zealand's virtual saleyard. He said it attracted plenty of attention, and proved a highly effective way to sell a herd.
"This is the first time we have sold a dairy herd online. For a herd as good as this one, it has proved an excellent option to conduct the sale.
"When the sale went live, we had 218 people watching across the country, from Auckland to Invercargill. As an online auction this sale was in front of a nationwide market, reaching a much wider profile of purchasers than a conventional selling process. A Canterbury buyer came through with the winning bid.
"Online is proving a useful alternative to traditional sales for several types of livestock. This sale is another example that: for particular stock sales, taking the sale online will achieve an outstanding result," he said.
Liz Harnett said the couple saw an online sale as an efficient opportunity for the market to set the price.
"Fortunately, that was the same as what we thought our cows are worth: although the market dictated that value, rather than us. Giving the herd nationwide exposure through this online platform, the feedback and calls we had from people we have known through our dairy careers was amazing. Our buyer wouldn't have known about the cows if not for bidr.
"We are thrilled with the outcome, and really happy with that our cows are going to someone with the same values that we have and the same level of respect for their cows that we have always had for our herd.
"We would like to thank Mark Cuttance and Roddy Bridson from PGG Wrightson, and the team at bidr for the opportunity to market our herd on this platform. Hopefully  we have laid the foundations for future herd sales," she said.
bidr General Manager Liam Beattie was delighted for the Harnetts.
"Interest in this sale was fantastic. Livestock agents, farmers, rural bankers and industry groups followed the auction, demonstrating how much bidr's online platform resonates with the dairy industry. We expect this positive outcome will encourage more farmers to consider how to integrate bidr into their livestock trading programmes," he said.
Further information: Mark Cuttance, 027 442 4742
Back to News