Video or image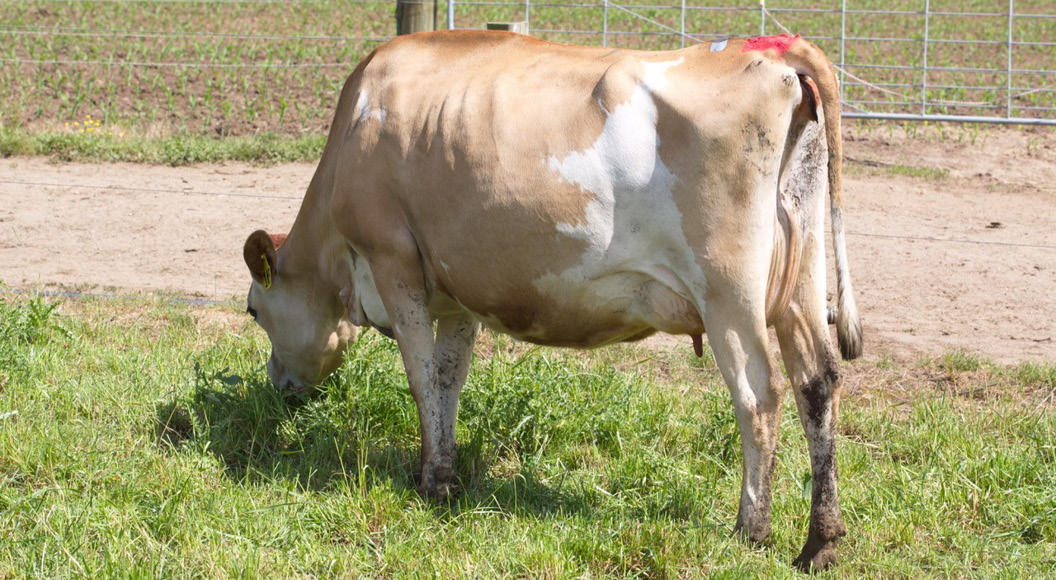 Over The Farm Gate: Long-standing dairy cow price record broken
Waikato breeder's dispersal sale attracts huge interest to break 50 year record
An April dairy herd dispersal sale for a Waikato breeder toppled a record that has stood for 50 years when a rising three-year-old in-calf Jersey sold for $55,000 to become New Zealand's highest priced single dairy cow.
PGG Wrightson National Dairy Genetics Co-Ordinator Andrew Reyland offered the herd of 265 cows and 85 in-calf heifers for Dick and Faye Post, farming at Tauwhare on the outskirts of Hamilton.
Andrew Reyland said the Posts established the herd in 1960.
"Dick and Faye have always been deeply committed, using nominated sires to breed big capacity Jerseys with functional udders as well as good structure and fertility.
"This herd consistently averaged more than 400 kilograms per annum of milk solids from their cows, equating to more than 1900 kilograms of milk solids per hectare. Motivated by the desire for continual herd improvement, attention to detail by the Posts has included feeding, animal health and documentation of every cow's breeding.
"Much of this performance has gone under the radar for many years: these are good solid cows with a proven shifting ability from surplus females sold over the years," he said.
For the online only sale, conducted over three days via bidr by PGG Wrightson in conjunction with Brian Robinson Livestock, purchasers ranged from Kaitaia to Invercargill.
"On the open day prior to the sale it was noticeable that the $55,000 cow was a particularly hard worker, spending the whole time eating and ignoring the approximately 20 people attending the event," said Andrew.
An Otago farmer submitted the successful bid, also buying the record-breaker's  dam for $23,100. Meanwhile a half-sister, from the same dam, fetched $23,400.
"This line had slightly different genetics, which made them more interesting to buyers. Sired by an A2 bull who transmits high components, the record breaker has excellent production indexes on her maternal line and recorded an udder score of 8-8," he said.
In total the Post's in-calf heifers averaged $3,347, while the cows averaged $3,240 and 131 unique buyers tuned in to bidr over the sale's three day duration.
Dick and Faye Post's was one of several successful recent dairy clearing or dispersal sales around the country. An excellent payout has put the dairy scene in good heart, rewarding vendors well, and establishing stern competition for sought after genetics.
Prior to the new record New Zealand's long established highest price dairy cow was a Holstein Friesian.
Jamie Cunninghame, PGG Wrightson National Dairy Livestock Manager
Back to News