Video or image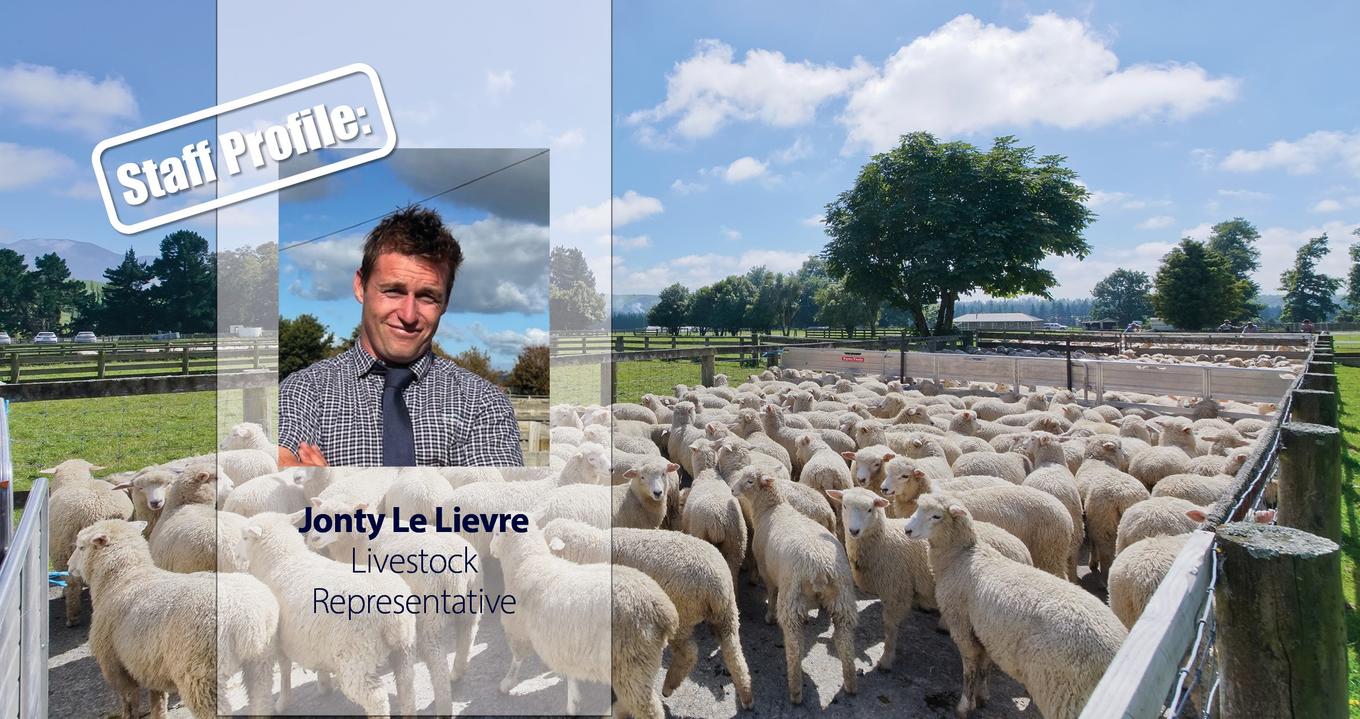 Staff profile – Jonty Le Lievre
Feeling proud that you've done your best.
Jonty Le Lievre is in the fifth generation born on Mangarouhi, the 416 hectare sheep and beef farm just out of Waipukurau that his family settled in 1915. Farming is well and truly in Jonty's blood. Previously a shearer for three years, and before that a shepherd for five, in March this year he took on a new role as a trainee livestock representative for PGG Wrightson, based in Hawke's Bay.
Being an agent was a long held goal, and so far the role has been everything he wished for.
"I enjoy dealing with people and with stock. I enjoyed shearing as well, though could see I wouldn't have longevity in that job. Most people can't carry on shearing forever, so I was happy when this opportunity arose, and it's worked out well."
Although it's been a steep learning curve, he's in the swing of it.
"Working with the farmer, negotiating the best possible price that you can for their stock, that's a real adrenaline rush. It's not like you're just selling cars or insurance or washing machines or whatever, just asking for their money: with farmers and livestock we are working together with our clients to help them achieve that reward.
"Every day you turn up to somebody's place, they are happy to see you, you do a deal, everyone is happy, and you can walk away feeling proud that you've done your best. Everything's good. It's very rewarding," says Jonty, who admits he's 'got the bug' for livestock, even just a few weeks into his traineeship.
"At the moment I'm still learning, cruising around the region with the other agents, still under their wing. I've not had an opportunity to bugger anything up yet, though I expect that will happen sometime in the future…"
One of the parts of the agent's role he's already had his first crack at is auctioneering.
"I had to have a go. Although it wasn't the nicest thing to do because I was so nervous, I managed to build up a bit of confidence, and the guys I work with jumped in and helped out, so I'm keen to do some more, and build on that start.
"To be a successful auctioneer you need to be able to count. Being witty with a sense of humour, bringing a bit of comedy and performance to the podium is what I've seen successful auctioneers do. Reaching out to the audience. That's something I think I can bring to it too," he says.
Although he sees plenty of challenges ahead for Hawke's Bay farmers, Jonty's not daunted: more like eager to get stuck in. ​​​
"Climate has been difficult in our region for several years. Weather events are more extreme, summers are drier, winters wetter, which makes it tough for farmers and agents. However, there are always plenty of challenges for everyone involved in agriculture, and the best way to overcome them is by all of us working together to achieve the same happy outcome."
Aside from work, Jonty still spends time as a weekend shearer; likes his hunting, fishing, and diving; plays tennis in the summer; and during the rugby season pulls on the green and black jersey as either second five or centre for Porangahau, who are having a decent run this year, not least with Ma'a Nonu putting in an occasional appearance, sitting around second or third in Division One for Hawke's Bay Rugby Union's Hepa Paewai Memorial Trophy.
Back to News