Video or image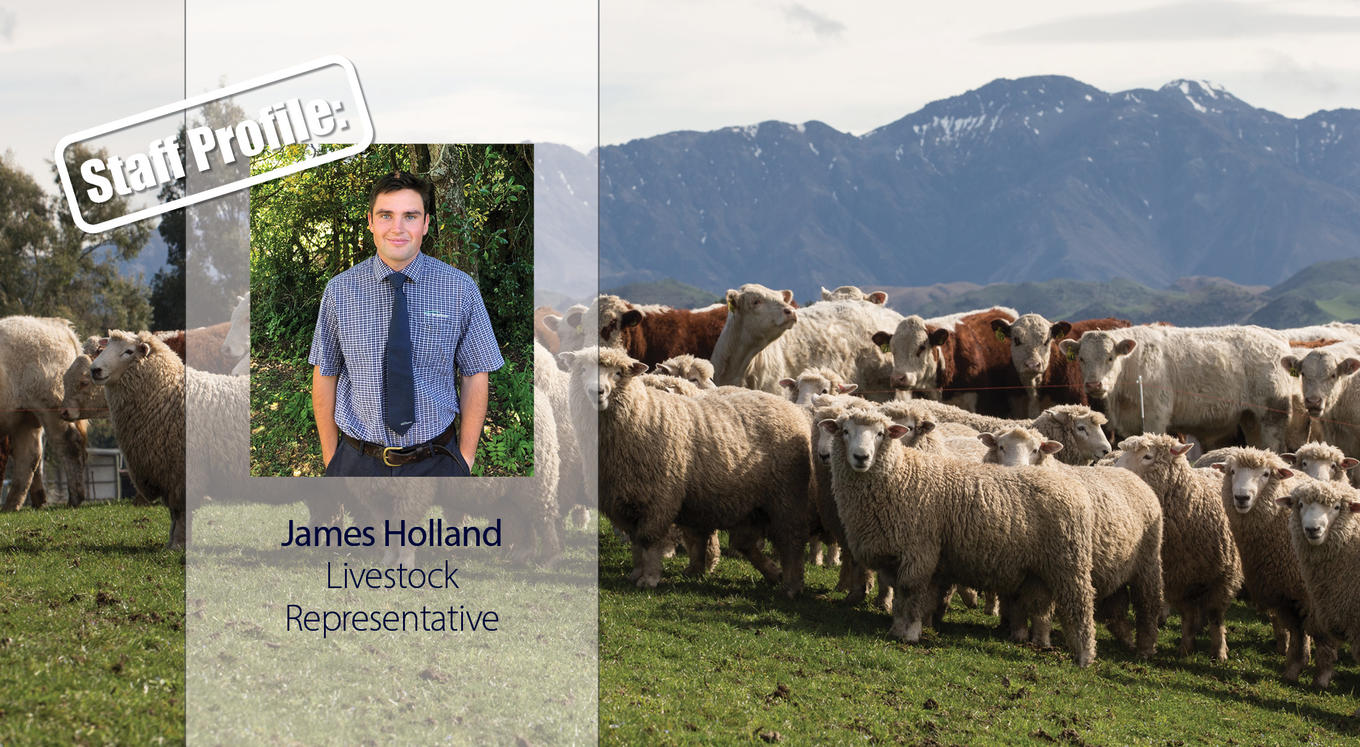 Over The Farm Gate: Staff profile - James Holland
I was always going to be in agriculture
Growing up on his parents' sheep and beef finishing unit in Strath Taieri south of Dunedin, James Holland was never in doubt about the type of work he would go into.
"I was always going to be in agriculture. After finishing school in 2016, I went to Massey University. While I was studying I took on a part time job with Agri HQ, weighing lambs in the Feilding saleyards. Just as much as my study, it was while I was doing that job that I realised I wanted to go into livestock ahead of any other direction that farming might take me," he says.
Soon after finishing at Massey, in early 2020 he joined PGG Wrightson's trainee programme, and a few months later he took over a client list, servicing the Tasman region as a Dairy and Sheep and Beef Rep, covering the area between Tapawera and Westport, which in the two years since has put around 55,000 kilometres per annum on the clock of his Santa Fe.
Although he is in a livestock role, James is quick to point out that knowing people is just as important as knowing sheep and cattle.
"You have to deal with a lot of different personalities. No two people are the same. You are reading the room a lot of the time, managing people rather than just understanding the livestock side of it.
"After a couple of years in the role, I'm still always having new experiences. It is different to anything else I've ever done, with plenty still to learn," he says.
Taking pride in his work is what motivates him to get in the car every morning.
"When a deal goes smoothly, with minimal hiccups, after I've done my homework correctly, that's where you gain satisfaction as a livestock agent. My aim is to do my job right, and ensure everything from my end has been completed to the best of my ability," he says.
From a lifestock perspective, land use change is a challenge for farming in Tasman.
"Plenty of farms in our region have converted out of sheep and beef recently, either into forestry, which is also happening elsewhere in the country, or into hops, which is unique to us. Hops have traditionally grown in an exclusive area around Motueka, though recently have been creeping south, with a big farm down near Murchison recently sold to grow hops.
"Sheep and beef farms that used to be there are not there anymore. Although you see it happening, as a livestock agent, that land use change is just one of those things that is out of your control," he says.
Outside work, during winter at least James turns out at second five in the red, gold and black of the Tapawera Valley Stags in the Tasman RFU premier competition: 'a good team of country blokes.' He also enjoys diving, making the two hour trip to Port Underwood, near Blenheim, as often as possible, and fishing.
Back to News