Buy your bulls with the genetics specialists
Bull Selection Part One – Study the Catalogue
If you need to buy a bull for the upcoming season, keep these important points in mind:
Work with the PGW Genetic reps and they will help you achieve your goals.
Start with the sale catalogue. Read it at home, and mark it up before you go out into the paddock.
Make sure you are clear about our own breeding objectives as a commercial farmer: what traits do you want to see coming through in your herd?
Only deal with a breeder who is able to meet those objectives.
When you are quite clear what you are looking for, relate that to what you see in the sale catalogue: retaining females, calving ease, trading weaners, finishing cattle. Whatever it might be that you need to breed into your stock, choose based on those characteristics – work out what you need to breed and prioritise those features.
Is the bull you are looking at fit for purpose and able to sire progeny that will thrive in the environment you are farming in?
What weight will his offspring reach after 200 days, after 400 days and at full maturity?
Is the breeder fertility testing? If not, how can you ensure the progeny of this bull will give you the returns you need from this investment?
Analyse the catalogue: if the bull you are looking at doesn't fit the breeding objective, look elsewhere.
By studying all these aspects in the catalogue, and making notes accordingly, you are now ready to go into the paddock. See part two.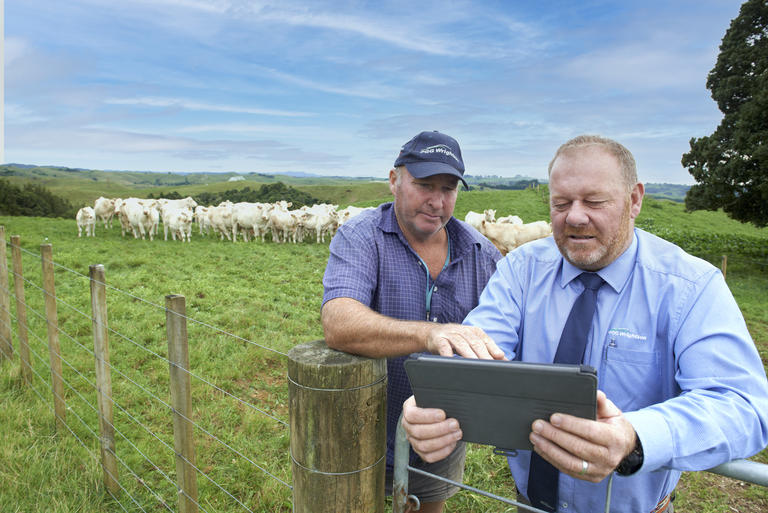 Bull Selection Part Two – Inspection in the Paddock
When you select a bull, after studying the catalogue, and making some notes, you're ready to inspect your bull.
Investing in a bull is a big decision. First there's the initial cost. If you retain those genetics in your herd for several years, the decision you make now goes well beyond what you pay on sale day.
Check the phenotype of the bull you are looking at: what observable characteristics appeal to you as a commercial farmer?
Is he structurally sound? Be ready to make that structural assessment:
Does he walk easily?
Is he moving free?
Can he carry his own weight? If he can't move easily around the paddock, he's not going to be able to serve your cows.
When he pulls up – is he able to lift his head and hold it well.
Note the structural assessment, but also understand stockman ship plays a big role.
While you're out there, don't just pick the top bull: pick as many of the bulls that meet your objectives as possible, and rank them in order.
For most successful farmers, working with a breeder to ensure the bulls you buy meet your objectives every year is a long term relationship. Like any successful relationship, that requires time and effort on both sides: understanding what you need, and what your breeder can provide.
Working with a reliable, independent advisor is always a good strategy. Find someone knowledgeable who you can trust, and work out a strategy with them that will put the best possible genetic foundations into your herd.
Now you're ready to buy, with confidence.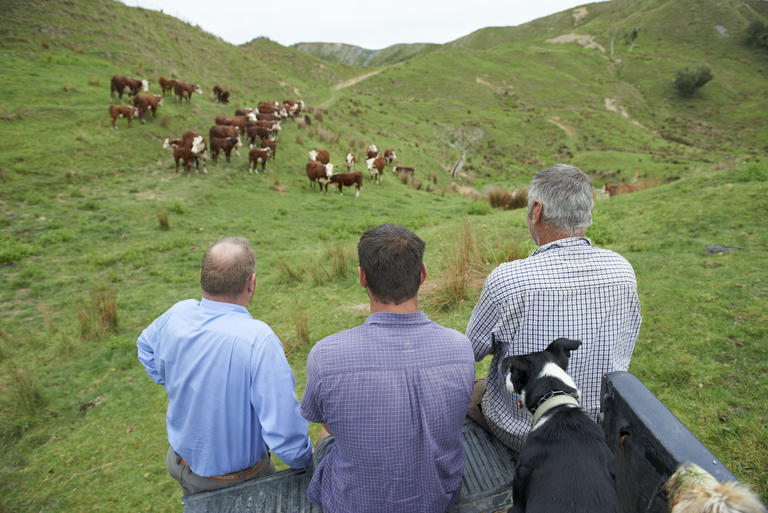 Backing kiwi beef farmers with research
An innovative research programme led by Beef + Lamb New Zealand and supported by the Ministry for Primary Industries has indentified key findings that will eventually underpin the development of valuable new tools for beef farmers.
The seven-year informing New Zealand Beef (INZB) programme, which aims to boost the sector's profits by $460m over the next 25 years, is focused on increasing the uptake of use of genetics in the beef industry.
The four main components of the programme are: Progeny Test herds, developing breeding objectives and indexes, building a genetic evaluation and data infrastructure, and developing new data sources.
Ultimately it will provide farmers with the genetic selection tools they need to breed animals better suited to New Zealand's farming conditions. The latest research has pinpointed a genetic influence on the ability of heifers to re-breed as two year-olds. It has also highlighted that using fat depth Estimated Breeding Values (EBVs) is a less efeective way to predict a cow's ability to maintain body condition and get back into calf than many breeders might think. 
Dr Jason Archer, Genetics Specialist - Livestock, for Beef + Lamb New Zealand Genetics, says the results come from an analysis of research undertaken through B+LNZ's Genetics Beef Progeny Test programme. The next step will be to build on these through the INZB project. 
"B+LNZ has had its Progeny Test programme since 2014. We are now in the new phase and have a Massey PhD student, Franzi Welk, analysing the existing data and producing interesting results, including around variation in reproductive performance," he says.
The analysis has identified that there was no significant differences between sires in the reproductive performance of 15 month 'first mating' heifers. However, a clear genetic influence was found on the ability of these heifers to re-breed as two-year-old 'second calvers.'
Dr Archer says the findings suggest that genetics matter when it comes to identifying, at an earlier stage, the heifers that are less likely to re-breed.
"That is important because, by the two-year mark, the farmer has invested a lot in the animal. It is expensive to have it drop out of the breeding herd rather than producing a calf every year for the next 10 years."
A second key is around farmers' use of fat depth EBVs to select bulls whose daughters will maintain condition and get back into calf. 
"There's a widespread view among many farmers that the fat depth EBVs are the best indicator of that," Dr Archer says. "Identifying these cows is important for farmers because the ideal is to select the cows that will do the job and stay in condition without needing specialist feed. However, in the trial data, we found the correlation between fat depth EBVs and the ability of cows to hold condition is only low - around 25 per cent. This means that selecting on positive fat depth EBVs to improve cow condition is a reasonably ineffective tool, although it is currently the only indicator available."
Dr Archer says, to be fair, the fat depth EBVs were never intended to be used for this purpose - they were developed to reduce subcutaneous fat from the carcase while adding marbling
There is good justification for instead measuring body condition of cows directly and using that to produce an EBV for cow body condition he says. 
"Everyone knows cows can be heavy because they are tall and lean, or because they are moderate and in better condition. Currently, we only have a tool that gives the weight. If we have a cow condition score, that tool becomes more valuable, because the numbers can differentiate - and enable farmers to also distinguish between bulls that will need lean cows versus the moderate well-conditioned more desirable cow."
These measurements have come out of the analysis, "and we would like them to be a focus of work going forward in the programme," Dr Archer says. 
Contact a Genetics Specialist